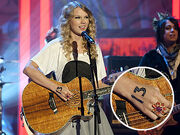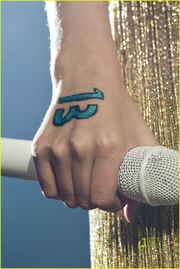 Taylor Swift considers number 13 to be her lucky number. She constantly references it.
Swift's interactions with 13
"The Lucky One" is the 13th track on her album Red. It has a 13 second intro and the word "lucky" is said 13 times in the song.
For many of her tours, Taylor would draw the number 13 on her hand with eyeliner before each show. As of the Red Tour, she no longer does this.
Her drummer put a number 13 on his drum.
She was born on December 13, 1989.
Her debut album went platinum in 13 weeks
Taylor says whenever she is seated in row 13 or row M (the 13th letter) at an award show, she always wins.
When she 'Tay-lurks', she goes to a fan's livestream and comments 13 emojis.
If she sees a 13, it'll bring her luck, but if she sees no number 13 that day, she'll lose.
In the film Valentine's Day her character gives her boyfriend a gift, his own shirt with the number 13 on the back, which was also her character's lucky number.
Four of her songs - Teardrops on My Guitar, White Horse, Ours and Gorgeous - peaked at #13 on the Billboard Hot 100.
In the music video for ME!, there are 13 clouds in one scene.
Taylor's first number one song on the Billboard Country Chart, Our Song, has a 13 second intro.
"Call It What You Want" has a 13 second intro.
Her Twitter account is @taylorswift13.
A number 13 adorns the top lid of her fragrance boxes.
In the music video for "Ours," the floor her cubicle is on is floor 13.
In the music video for "...Ready For It?" the number 13 is written on the left wall in the corridor.
In 2015, after injuring her thumb, she wrote a 13 on the bandage.
When Taylor posts a screencap of the song she is listening to on Instagram, the song's timestamp will always be 13 seconds.
When Taylor posted about HAIM's 2017 single "Want U Back", she used 13 exclamation marks.
A poster of her 1989 album cover can be seen in an episode of Netflix series 13 Reasons Why (which was produced by Taylor's friend Selena Gomez).
The 1989 physical CD came with 13 polaroids of Taylor.
Thus far, the 13th most viewed video uploaded by YouTube user Music Video Sins, a YouTube humor channel that critiques music videos, is one that critiques Taylor's Blank Space music video, titled Everything Wrong With Taylor Swift - "Blank Space".[1]
Thus far, parodist Bart Baker's 13th most viewed video on YouTube is a parody of Swift's 22 song and music video, titled Taylor Swift - "22" PARODY.[2]
In 2018, Swift won 13 awards.
The music video for "Delicate" garnered over 13M views in its first 24 hours.
Her only albums that won the Grammy Award for Album of the Year are Fearless (2008) and 1989 (2014), and both have thirteen tracks on the standard album.
In her music video of 'You Need to Calm Down ', her watch includes the number 13, and the numbers 1 and 2 are exterminated.
In the YNTCD video, she put 13 gems on her sunglasses. She also wore a necklace with a number 13 on it.
The "Taylor's Version" of Fearless was announced on February 11, 2021 (2+11=13) and was released on April 9, 2021 (4+9=13).
In the Out Of the Woods video, she falls 13 times. Out of the Woods also has 13 letters. On October 13, 2014 a clip of the song premiered on Good Morning America.
References