Abigail Anderson is Taylor Swift's best friend. Taylor said during an interview with Oprah:
"But my best friend, Abigail, we met when I was 15. First day of school freshman year we sat next to each other in English. She wanted to be a swimmer and go off on a college scholarship for swimming and I wanted to be a singer. Now she's off at Kansas on a swimming scholarship and I'm singing."[1]
Abigail goes to college in Kansas at the University of Kansas. Taylor says that her favorite thing to do on her day off is to go visit her there.[2]
Music videos she has appeared in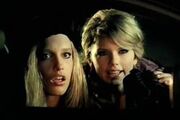 Home movies
Both Taylor and Abigail have their own YouTube channels showing home movies of the two of them together.[3] [4]
References
External links