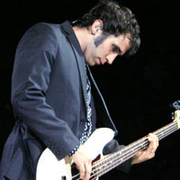 Amos Heller is a bass guitarist who is a part of The Agency.
Amos Heller was born on March 18, 1977. He began playing upright bass in the Charlottesville, Virginia public school system at the age of ten. He played classical upright over the next ten years, studying with Israeli virtuoso Mark Bernat, and winning a spot in the Miami University symphony orchestra.
He received his first electric bass when he was thirteen, and like most other thirteen-year-olds, joined a band that knew a few songs. Throughout high school, and college he played any genre of music that would have him, going from top 40 cover bands to Frank Zappa-inspired rock to Christian worship to small-combo jazz.
He would spend the next decade making an impression on the Cincinnati music scene, working with artists such as Ric Hordinski (Over the Rhine, Monk), Phil Keaggy, Ellery, Oval Opus and David Wilcox. While gaining studio experience, he toured with blues legend Chris Beard, and with RCA rock act July for Kings, among others.
Amos moved to Nashville in the fall of 2005, and has already amassed an impressive resume. In the years since making the move, he has toured or recorded with Josh Gracin, Rhett Akins, Mindy MacCready, and Taylor Swift. He has played arenas and amphitheaters all over North America, and did a brief tour of U.S. bases in Iraq with the Stars for Stripes. He has shared the stage with just about every big name in country music.
Amos was nicknamed "Bass player extraordinaire"
Started in Taylor's band sometime in 2007, after Grant joined. He's married to Kara Heller, who he married whilst wearing converse. He is, along with everyone else in Taylor's band, close friends with Taylor. She wrote on her MySpace blog, 'my bassist, Amos, one of the people I love most in the world is getting married to the love of his life next week'
External Links
Community content is available under
CC-BY-SA
unless otherwise noted.