Benjamin Button is Taylor Swift's newest cat. He is a Ragdoll kitten. He is the brother of oldest sister Meredith Grey, and middle child Olivia Benson. He was first seen in Taylor's music video for "ME!", when Brendon Urie was seen handing the cat to Taylor as a gift. A few minutes before the video came out, Taylor mentioned in the youtube pre-release chat that she had a surprise she was keeping for months,
| | | |
| --- | --- | --- |
| " | Oh and there's a secret in the video that I've been keeping for months - let's see who can guess it. | " |
The secret turned out to be that she had gotten this new cat!
The Story of Benjamin Button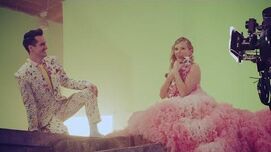 Taylor met Benjamin on the set of the music video, and immediately fell in love with him. The handler of the cat told Taylor that Benjamin was a "purr box," after Taylor mentioned that he was purring on her. Taylor then asked the handler, "Can I have him?" To which the handler responded with, "He is available." Taylor knew then that she needed to adopt him. Brendon was in awe over Benjamin as well. Throughout the shooting of the music video, Taylor kept mentioning how adorable she thought he was, saying that she would watch the music video and think about how that was the first time she saw him!
Trivia
Benjamin is named after the character portrayed by actor Brad Pitt in the 2008 film The Curious Case of Benjamin Button.
His face is featured in the music video for "You Need to Calm Down" on the wristwatch with cat design, and in Taylor's Amazon music ad.
Gallery