Big Machine Records is an American record company distributed by Universal Music Group (UMG), and owned by Scott Borchetta, who founded it in 2005. They have worked extensively with Republic Records, forming a Nashville co-owned branch of Republic, which would later be solely owned by Big Machine. They entered a four-way deal in 2015, including Republic, which made them agree to become an imprint of Republic as Republic would promote non-country music on radios and distribute it internationally. Taylor Swift, a singer-songwriter, was signed to them from 2006 to 2018 and was their very first and most successful sign. After her contract ended, she would sign under Republic Records.
In October 2018, Big Machine Records went up for sale, being acquired by Ithaca Holdings for $300 million. This prompted Swift to not resign after her contract ended, going to Republic. However, in April 2021, all of Ithaca Holdings, including Big Machine Records, would be gained by Hybe Corporation - or Big Hit Entertainment - which has South Korean artists such as BTS and TXT.
History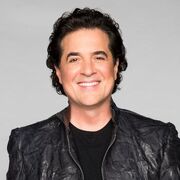 The label, which was started by Scott Borchetta, was formed in 2005 after he resigned from being a DreamWorks executive after Universal Music purchased the label from DreamWorks Pictures. It was named after rock supergroup Velvet Revolver's 2004 single "Big Machine". Shortly before he resigned, he approached his first client Taylor Swift and her family when she was performing at The Bluebird Cafe, and said he would sign her after he got the label started up due to financial issues.
In June 2006, Big Machine released their first record under Swift, as they had no other artists at the time called "Tim McGraw". It focused on Swift's teenage relationship with a guy who owned a Chevy pickup truck, named after the actual country singer Tim McGraw. After Republic Records CEO Monte Lipman heard it, he told Borchetta "I don't know if you realize this, but that's a pop record. I can cross that over," indicating she could potentially be a mainstream success. Later in October of that year, she released her first album under the label - also the label's first album - which sold over a million copies. It established Big Machine as a force in Nashville music, which is where they got singers like Jewel, the Mavericks, and Justin Moore.
While 2008 would bring them financial success with Fearless, the next year would mark a downtime in the music industry as a whole as they shifted to digital downloading and album sales became obsolete. Although the country community wasn't affected as much due to many of the audience buying physical copies, Big Machine struggled a bit and reported losses during fiscal years.
In 2012, they signed a deal with Clear Channel, which is held by mass media corporation iHeartMedia, and which has released unauthorized recordings of Swift's earlier live recordings. This deal allowed the record company and its artists to share terrestrial radio revenue.[1]
In 2015, Scott Borchetta commented on the issue of Big Machine's distribution deal with UMG being up saying "No comment. It's called a nondisclosure agreement." However, since then, they have appeared to have renegotiations as UMG still distributes their material. In 2017, the company launched a sideline for entitled "Big Machine Platinum Filtered Premium Vodka".
Spotify issue

For more information see Spotify
In late 2014, Big Machine Records on behalf of Swift reached out to Spotify, one of the biggest monopolies in streaming services, about removing her from the free tier to get more wages. At the time, they paid about $.00521 per stream of a song, according to Business Insider. Not long after, she pulled all her music from the platform, including the upcoming album 1989.
Spotify attempted to start a social media campaign to persuade her to add her services back with the hashtag #justsayyes, a lyric from her 2008 song "Love Story". They also said they paid 70% of its revenue to artists, although Braun denied this in an interview with Time magazine. The campaign came to an end following her release of Reputation in 2017.
Artists
Tables are not complete, help would be appreciated.
Artist
Year signed
Imprint
Other artists signed to the label include Nick Fradiani, Danielle Bradbury, Laura Bell Bundy, and Tim McGraw.
Formerly
Artist
Year signed
Year left
Imprint
Nick Fradiani
2015[2]
2017[3]
✔John Varvatos Records
Rascal Flatts
2010[4]
2021[5]
✘
Tucker Beathard
2015[6]
2020[7]
✔Dot Records
Dusty Drake
2007
2007
Releases
Their very first album was released by Taylor Swift with her self-titled debut in 2006. She would release an additional 5 albums after this before departing. Notable singles under Big Machine besides Swift include "Cruise" by Florida Georgia Line at 11 times platinum, which is one times diamond. Platinum songs under them that were certified by the RIAA include "I Won't Let Go" by Rascal Flatts and "Shotgun Rider" by Tim McGraw. Both Midland's debut single "Drinkin' Problem" and Tim McGraw with "Humble and Kind" were certified 3 times. "In Case You Didn't Know" by Brett Young was certified 5 times and "Die a Happy Man" by Thomas Rhett 7 times.
Prominent albums by musicians signed under Big Machine Records include Zac Brown Band (2015's Jekyll + Hide, 2017's Welcome Home, 2019's The Owl, and 2021's The Comeback); and The Shires (2016's My Universe, 2018's Accidentally on Purpose, 2020's Good Years, and their upcoming album 10 Year Plan); and Reba McEntire (2009's Keep on Loving You, 2010's All the Women I Am, 2015's Love Somebody, 2016's My Kind of Christmas, 2017's Sing It Now: Songs of Faith & Hope, 2019's Stronger Than the Truth, and 2021's Revived Remixed Revisited); and Midland (2017's On the Rocks and 2019's Let it Roll) and Garth Brooks (2014's Man Against The Machine, 2016's Christmas Together and Gunslinger, and 2020's Fun) and Steven Tyler's 2016 album We're All Somebody from Somewhere, known for the rock band Aerosmith.
Taylor Swift releases
2000s
2004-2007
After performing at The Bluebird Cafe on November 3, 2004, she was noticed by founder Scott Borchetta, who promptly signed her onto the label at the age of 14 and became their first hire. Due to not having enough money, he promised she would go on the rooster after it would be established with funding from stockers. Soon after she would release the single for her first album Taylor Swift, called "Tim McGraw", which would peak at number 40 on Billboard's Hot 100.[8] In the next two years she would also release new singles for the album after it came out. Along with that, she would feature on Turbo Twang'n for the God Bless the Children project of the Nashville All-Star Choir.[9] To promote Taylor Swift, she would go on tour with label teammates Rascal Flatts and George Strait, where she would write her follow-up album.
2008
In 2008 she would release another album, along with an EP and a promotional single for the AT&T Team USA Soundtrack. The album, entitled Fearless, was released in November of that year. Certified diamond in 2017, it was supported by the singles "Love Story" (8x platinum) and "You Belong with Me" (7x platinum). The EP was Beautiful Eyes, released in the months before in July, exclusively to Walmart stores in the United States and could also be bought online. It mainly featured renditions of her songs on Taylor Swift. It also featured a bonus track I Heart ?. The song Change was released that year, as previously mentioned, for the AT&T Team USA Soundtrack to support the United States Olympic team, and would become one of the main themes for the 2008 Summer Olympics.
2009
Despite not releasing any albums this year, she would feature on many tracks for soundtracks. She would continue to promote Fearless, adding more singles from the album like "Superstar". For the album Love Drunk by Boys Like Girls she would feature on a song called "Two Is Better Than One", certified platinum, and an official music video was released. Although she did not appear in it, her verses were still on track. Also, that year she would make a cameo in the Hannah Montana: The Movie, appearing alongside Hannah Montana (Miley Cyrus), and singing the song "Crazier". She would cover Tom Petty and the Heartbreakers song "American Girl", released digitally.
2010s
2010
In October 2010 she would release her third album Speak Now, which would be certified 4 times platinum. The album was written solely by Swift. Ten of the tracks would have a music video, then her most for any album. She would release 2 promotional singles, "Today Was a Fairytale" and the title track "Speak Now". Eight of the songs would later be certified gold. "Half of My Heart" was also released, featuring John Mayer, who she was then dating and was a single for his album Battle Studies.
2011
After going on tour for Speak Now in a few locations, she would release the Speak Now World Tour. Although it did feature mostly live performances from the album, it also included a mashup of the songs "Back to December/Apologize/You're Not Sorry. Some covers were also included like the Train's "Drops of Jupiter", "Bette Davis Eyes" by Donna Weiss featuring Jackie DeShannon, and "I Want You Back" by the Jackson 5.
Multiple songs off Speak Now would also be re-released as promotional singles and singles. A few days before the year ended, she would release "Safe & Sound", featuring the Civil Wars, for the soundtrack The Hunger Games: Songs from District 12 and Beyond, the official soundtrack for the 2012 movie The Hunger Games.
2012
In 2012 she would release Red, now certified 8 times platinum worldwide, although it was last updated in 2014. She released a plethora of singles in preparation for it, including "We Are Never Ever Getting Back Together" which would hit number one on Billboard's Hot 100 after being number 72 the previous week it came out. This marked one of the biggest single-week jumps in the charts' history. Along with that there was "Ronan", dedicated to Maya Thompson's son who died of Neuroblastoma, "Begin Again", and "I Knew You Were Trouble". Eyes Open was also released around the time, the second song off the Hunger Games soundtrack.
The song "Both of Us" (featuring B.o.B) was released for his second studio album Strange Clouds in May. After the conclusion and end location of the Speak Now World Tour, she agreed upon a remix of the song "Long Live" with Brazilian singer Paula Fernandes. It would receive a music video, and reached number 5 on Brazil's version of the Hot 100.
2013
After promoting Red by releasing more singles and going on tour, she would continue releasing songs elsewhere. "Sweeter Than Fiction" was released as a promotional single for the British film One Chance; and was written in co-produced with Jack Antonoff of the bands Bleachers and short-lived project Fun. This marked the first time they had ever worked together, and he would go on to be a regular collaborator with her, most notably in the 2020 albums Folklore and Evermore. She also released "Highway Don't Care" with Tim McGraw and Keith Urban for the former's album Two Lanes of Freedom. It peaked at number 22 on Billboard's Hot 100 and was certified three times platinum.
Exclusively in Germany in November, the Complete Album Collection was released. It was a box set containing all her then 5 albums, and one live tour album called Speak Now: World Tour Live
2014
While on tour midway she would write her fifth studio album 1989. This marked the change of her being a country artist to a pop superstar. In its first week it sold over one million copies, which was unusual amidst declining record sales in favor of streaming services like Spotify and iTunes. In Billboard's Year-End Top 200 albums it was number two and would be the second of the whole decade as well. It was supported by seven singles, the most of her career.
The first single "Shake It Off" was released in August and would become her biggest hit being her only song to be certified diamond. "Blank Space" was then released, accompanied by a music video which Shake It Off would later get, and became 8 times platinum. The other singles included three US top-ten entries.
2015
After releasing more singles like "Style" and the deluxe version of 1989 exclusively for Target in the United States and Canada, she embarked on the 1989 World Tour. Due to being busy with the tour, she did not release much music that year besides a remix of the song Bad Blood which featured Kendrick Lamar. The song peaked at number one, although having mixed reviews due to its repetition, and received a high-budget music video featuring many stars that were friends of hers.
2016
She wrote the song "Better Man" for Little Big Town for their album Sugarland, and also featured on a song. This song was "I Don't Wanna Live Forever", featuring Zayn Malik, and was written for the 2017 movie Fifty Shades Darker. After those songs she would go on a temporary hiatus, thanks in part to the Kanye West drama, fueled by Kim Kardashian. She was publicly exiled, and thus only came to receive awards.
2017-18
Before leaving Big Machine Records, she would release a final album for her contract. This album was Reputation, mostly following the tabloid speculation around her life after the stated drama. It was supported by numerous singles, including "Look What You Made Me Do". The song broke multiple YouTube records and garnered over one billion views, which at the time was around the 50th video to do so. Other singles included "...Ready for it", "End Game", and "New Year's Day". The album itself sold over 4.5 million copies and would later be supported by a tour that is the highest-grossing North American tour of all time.
Imprints
Valory Music Co.
BMLG Records
Dot Records
Nash Icon Records
John Varatos
Big Machine Music Division
Big Machine Radio Division
See also
References
External links