Billboard is an American entertainment magazine, focusing on the field of music. Published by Penske Media Cooperation under a division, it is published weekly. As it stands now, they do coverage on celebrities, fashion, and gossip along with their notable Hot 100 Charts and Billboard 200 Albums.
They were first introduced in 1894 under two Cincinnati-born men as Billboard Advertising. In 1900, one of the founders would buy out the other members stock for the sake of not making the company bankrupt, thus leading to a change in leadership. This lead to various private investors switching ownership back and forth, never making it past a few decades.
Throughout the 1990s and up until now, they have mainly focused on their charts, specifically the Hot 100. The Hot 100 is used as a standard for charts, being held as an accomplishment above others, competing the main musicians against each other.
History
The very first Billboard - then called Billboard Advertising - the magazine was released by William H. Donaldson and James H. Hennegan of Cincinnati on November 1, 1894.[1] In 1897, it would be changed to "The Billboard" to appease editorial concerns by its staff, and then Donaldson purchased Hennegan's share in 1900 so the company wouldn't go bankrupt. This would lead to many important changes, like publishing the magazine weekly instead of monthly to engage audiences and get more timely reporting.
In 1932 they decided to add a section called "Amusement Machines", which also added charts for jukeboxes, which were experiencing a surge around this time. This made them publish weekly charts for the best-sellers, the precursor to the Hot 100. In World War II, which had happened shortly after starting in 1939, more music charts would emerge onto the scene. This was due to more people wanting to enter the music business, with various genres and formats.
In January 1961, they again switched names to Billboard Music Week (in 1963, it would be shortened to Billboard) to emphasize the music section of it, as their charts had exploded in popularity. By 1984, they would become the undeniable leader in music. It was old in 1897 to Affiliated Publications, purchasing many magazines under it, although private investors would buy back 75% of it.
In 1994, it would be sold to VNU (not known as Neilsen), wherein it was combined with other enterprises, it would go into doubt from the amount of buying it had done and had a halting takeover. Tamara Conniff would decide to lead a major rebranding, jumping sales over 10%. Seeing that they would fall if they continued on music, they would reach out into other branches including gossip and celebrity fashion.
On September 23rd, 2020, Penske Media Cooperation decided to buy Billboard as a joint venture. Penske is perhaps best known for its digital print magazines including Variety, Rolling Stone, and IndieWire among many others.
Charts
Throughout the history of Billboard, it is perhaps no greater recognized than its chart, compiled from Nielsen. Billboard states how they compile all their charts like this:[2]
| | | |
| --- | --- | --- |
| " | The sample includes not only music stores and the music departments at electronics and department stores, but also direct-to-consumer transactions and Internet sales (both physical albums via Internet, and ones bought via digital downloads). A limited array of verifiable sales from concert venues is also tabulated. All sales charts use the entire MRC Data panel. | " |

Their very first chart was entitled Best Selling Retail Records, which is now defunct and was succeeded by Vinyl. Tommy Dorsey's "I'll Never Smile Again" was their very first number one, regardless of specific charts.
The next chart introduced would be an R&B chart called, Harlem Hit Parade. This chart was mainly focused on the neighborhood of Harlem in Upper Manhattan, New York. It surveyed record store owners there, which was mostly swing and jazz music due to its predominantly African-American population that is still there today.
Their first-ever "country' chart was the Most Played Juke Box Folk Records released on January 8th, 1944. The term of country music had yet to come into use, being popularized by Hank Williams although Lefty Frizzell would be "Elvis-like" according to Sean Dooley of Live About.[3]
Other major charts releases would be "Billboard 200" under then Best Selling Popular Album. It was debuted on March 24th, 1956. The first-ever album to top it was King Cole Trio's self-titled debut album, a jazz ensemble that was the status quo for many years after. The other was Billboard Hot 100 on August 4th, 1958, replacing Top 100 and Most Played by Jockeys. It is now arguably their most known chart, being considered a height of achievement to go number 1 on it, comparable to the Grammy Awards.
Other popular lists include:
Artist 100
Social 50
Streaming Songs
Radio Songs
Digital Song Sales
Top Album Sales
Top Current Album Sales
Catalog Albums
Independent Albums
Soundtracks
Vinyl albums
Lists
Billboard supports many lists, although not as known as their charts.[4] The most recent that is a mainstay so far is 21 Under 21, released in the early 2010s first showing Lorde.[5] However, another popular one is the Women in Music list which counts the most popular women on their charts,[6] and their Music Executives twist on it.[7]
Other lists, although perhaps not as notable, are listed as followed:
Latin Power Players
40 Under 40
Billboard Dance 100
Power 100
Digital Power Players
Hip-hop Power Players
Indie Power Players
Issues as cover person
Issue #38 - October 27, 2012

Talks about the production and release of her fourth studio album Red, which was released the following months before. Particularly focuses on how she got pop producers and songwriters to work with her on what was labelled as a "country album", focusing mainly on Max Martin.
Issue #41 - December 13, 2014
Covers how she is 2014's Billboard Women of the Year, for the second time, and reveals how on 1989 she struggled to keep country influences out of her full-out pop album. Along with that, due to recent criticism around the time, she talked about her "Squad", and how she was friends with them.
Photo shoot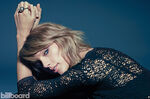 Photographed by Mill Mobley on December 3, 2014, at Siren Studios in Los Angeles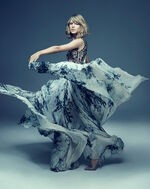 Photographed by Mill Mobley at the same studio the next day on the 4th.
Photographed the month before on November 18.
Photographed on December 6th.
Taylor article appearances
Includes select articles from 1 month as of writing, there is a LOT.
| Name | Date | Summary |
| --- | --- | --- |
| Silk Sonic, Dr. Dre, Maluma, Taylor Swift, Cardi B, John Mayer & More of the Week's Biggest Winners (Jan. 21) | January 21, 2022 | Talks about music events over the week, including how Taylor Swift became the first-ever Record Store Day Global Ambassador. |
| Dionne Warwick Will 'Find' Jake Gyllenhaal & Get Taylor Swift's Scarf Back | January 21, 2022 | Discusses her tweet in which she promises to return Swift's scarf from Jake Gyllenhaal as shown in the All Too Well (The Short Film). |
| Taylor Swift named First Record Store Day Global Ambassador x2 articles | January 20, 2022 | Discusses how she became Record Store Day's first Global Ambassador, as stated in a tweet, which promotes independent record stores around the world. |
| Taylor Swift's Accusers Say She Must Face 'Shake It Off' Trial, Even If She's 'Unhappy' | January 14, 2022 | Swift faces legal battles over Shake It Off lyrics, and has requested to cancel the trial as they are "common phrases". |
| 1 Out of Every 3 Albums Sold in the US in 2021 Were Vinyl LPs | January 13, 2022 | Indie records account for almost half of vinyl LPs across the world, while Swift is the top-selling artist taking a 2.6% global share of the market. |
| Swifties Can't Get Enough of Jake Gyllenhaal's Very *Red* Photo Shoot | January 12, 2022 | Swifties across social media platforms talk about Jake Gyllenhaal's recent photo shot, directed under W Magazine which is owned by Karlie Kloss, and how he matches the Red aesthetic. |
| Taylor Swift Breaks Shania Twain's Country Albums Chart Record: 'Let's Go Girls!' | January 7, 2022 | Swift notches the record for the female artist with the most weeks a top Billboard's Top County Albums with 99, breaking former record-holder Shania Twain who had 97. |
| Ben Affleck's Daughters Were Left Speechless When Meeting Taylor Swift: 'Say Something' | January 5, 2022 | Ben Affleck and Jennifer Garder's two daughters were apparently rendered speechless upon meeting Swift, according to an interview he did with The Kelly Clarkson Show. |
| Katharine McPhee Defends Husband David Foster With a Taylor Swift Lyric | December 30, 2021 | Katharine McPhee defends her husband after people criticized their weight, and she responded with a Taylor Swift lyric. |
| Don McLean Is Open to Collaborating With Taylor Swift: 'Anything Is Possible' | December 28, 2021 | Don McLean opens up the possibility up collaborating with Swift after she broke his Hot 100 record. |
| Taylor Swift Revisits Familiar 'Red (Taylor's Version)' Song to Celebrate Benjamin Button's 22nd Birthday (in Cat Years): Watch | December 27, 2021 | Swift posts about her cat Benjamin Button turning 22, celebrating with a caption referencing her song 22. |
Last updated January 21, 2022
Notable Achievements
The first artist to ever have all songs from one album debut on the Hot 100 chart, under Speak Now.
Folklore and Evermore would become the first and second albums to top Billboard 200 and have a song on number with the Hot 100. cardigan and willow are the two songs to top, respectively.
With Reputation, she became the first artist to have four million-selling albums in a week according to Neilsen.
Broke The Beatles' record of having 3 number one albums, taking 259 days.
See also
Billboard awards, a yearly award show honoring the artists that dominate certain or multiple of its charts.
References