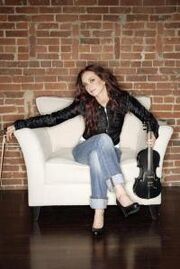 Caitlin Evanson
plays fiddle, guitar, back up vocals, and sometimes the mandolin.
She was born on February 26, 1979 in Seattle, Washington. She inherited her natural musical interest from her father who was a music professor. At age four she got a violin and she began to be classically trained eventually leading to studies under renown teachers such as Ivan Galamian (a colleague of Itzhak Perlman) and an assistant concert master position with the local youth symphony. However, Evanson's musical influences soon took a swift, dramatic switch.
Her alternate ego is Eunice, for comical reasons, who she dresses as to greet fans and goof around, and also has been pictured on the cover of one of the albums.
Quotes
"Taylor is a 40 year old in a 19 year's old body."
External Links
Community content is available under
CC-BY-SA
unless otherwise noted.