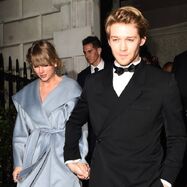 Taylor Swift is currently dating English actor Joe Alwyn, beginning in November of 2016, and has been Taylor's longest relationship as of May 2022. They have been together for a little more than 5 years.
As shown in Netflix's recent documentary giving us an insight into Taylor's life over the past few years, the couple has agreed to keep their relationship out of the public eye.
As of March 2020, Joe Alwyn and Taylor Swift have been quarantining together with their three cats, Meredith, Olivia, and Benjamin.
Songs that Joe inspired:
See List of Taylor Swift's ex-boyfriends for Taylor's past relationships, and the songs inspired by them.