Fearless is the second studio album by American country-pop singer Taylor Swift. The album was released on November 11, 2008 by Big Machine Records. As with her debut, Swift wrote or co-wrote all thirteen tracks on Fearless. Most of the songs were written as the singer promoted Taylor Swift as opening act for numerous country artists. Because of the unavailability of collaborators on the road, Swift resulted in self-penning eight songs. Other songs were co-written with Liz Rose, Hillary Lindsey, Colbie Caillat, and John Rich. She also made her debut as a record producer, co-producing all songs on the album with Nathan Chapman. To promote the album, the singer embarked on her first headlining concert tour, the Fearless Tour, which expanded from April 2009 to June 2010.
Fearless was an international breakthrough in commercial success for Swift. In the United States, it topped the Billboard 200 for eleven non-consecutive weeks, thus setting various records, including the longest chart-topper by a female country artist. On Billboard's Country Albums chart, the album logged a record 36 weeks at #1. With 3.2 million copies sold in 2009, the album became the year's best-seller, making Swift, 20 at the time, the youngest artist to have one. Furthermore, it became the only album to elapse a full year in the top ten of the Billboard 200. With 6.6 million copies sold,[1] Fearless is the second biggest-selling album in the last five years (behind Adele's 21, with over 10 million copies sold as of late 2012). Elsewhere, Fearless topped charts in Canada and New Zealand and achieved multi-platinum status in six countries. In the Philippines, it was certified nine times platinum by the Philippine Association of the Record Industry (PARI), marking the album's highest certification. In all, Fearless has sold more than 10 million copies worldwide.[2][3]
Five singles spawned from Fearless. The lead single, "Love Story" is Swift's best-selling effort to date, selling over five million copies in the United States alone. It was a crossover hit that became one of the best-selling singles of all time internationally and was once the best-selling country song of all time. The succeeding single, "White Horse" was unable to match the success of "Love Story", but performed well in the US. "You Belong with Me" fared better internationally, becoming Swift's second best-selling single and her highest position on the US Billboard Hot 100 at the time, peaking at number two. "Fifteen" and the title track followed; the latter became the first single certified gold by the Recording Industry Association of America (RIAA) prior to its release. The album was later re-released on October 26, 2009, as Fearless: Platinum Edition with six additional new songs, photos from the Fearless Tour and a bonus DVD featuring behind the scenes of some of her previous music videos.
Background
Prior to stardom, Swift received a publishing contract with Sony/ATV Music.[4] Over the course of that period, Swift composed over 250 songs solely or collaborating with other songwriters, mostly with Liz Rose or Robert Ellis Orrall,[5] and refused to hand them away to already established acts with intentions of someday singing them herself. When later signed to Big Machine Records, Swift compiled her eponymous debut album of material written during her publishing contract, and expected to do the same for her second album. She said, "I've been very selfish about my songs. I had this dream of this project [Taylor Swift] coming out for so many years now that I just stockpiled. I'm so happy that I did because now we have a second album full of songs and a third album full of songs, and I don't have to lift a finger."[6] However, when embarking on her first and second tour as opening act for Rascal Flatts and George Strait, respectively, Swift continued to compose numerous songs. "I've written a lot of songs by myself lately, especially since I've been alone so much on the road," she said. "I do love writing on the road - I usually write at the concert venue. I'll find a quiet place in some room at the venue, like the locker room."[7] As a result of writing subsequent to touring, Swift self-penned most of the material. "I've written like eight songs for the second album by myself. If you're in Arkansas, who's there to write with?"[8] During vacation days from touring, Swift collaborated with Rose,[8] musician John Rich, and singer-songwriter Colbie Caillat.[9]
In the writing process, she was heavily influenced by Sheryl Crow's candidness and truthful, yet vulnerable storytelling, and Brad Paisley's, who she opened for, touching, yet humorous nature.[5] She sought to prolong with centering romantic love the theme of the album. Primarily, she did not want to alienate her fans with songs about life on the road, for she could never relate to songs of the sort when younger. She continued, "I really try to write more about what I feel and guys and love because that's what fascinates me more than anything else — love and what it does to us and how we treat people and how they treat us. So pretty much every song on the album has a face that I associate with it."[10] Despite her revelation of not having kissed a male in two years, Swift said the album was not wrung dry of such inspiration because she still underwent breakups and felt its core emotions. Adding it did not "take much [for her] to get that sort of emotion out in a song",[11] she explained physical intimacy did not have to resort to kissing to feel disappointment, frustration, or heartbreak.[8] Despite having written numerous new songs, Swift decided to also include previously written tracks, believing there were stories she did not have the opportunity to put out with Taylor Swift, and still desired to.[8]
Having grouped over 75 songs,[5] recording with Nathan Chapman, who produced all but one song on Taylor Swift,[12] commenced soon after having completed touring with Strait;[13] in the process, Swift made her record producing debut.[14] Thereon, her and Chapman recorded and cut an abundance of songs to keep the best material on the album.[8] Thirteen tracks were intended out of Swift's fondness for the number; she attributes it to be her lucky number.[5] To aid in choosing the songs, Swift performed various new tracks – "Permanent Marker", "Missing You", "I'd Lie", "Sparks Fly", and "Fearless" – at the Gold Country Casino in Las Vegas, Nevada on May 29 and May 30, 2007; only the latter song was chosen for the album.[15] By January 2008, Swift had recorded approximately half of the songs that would remain on the final cut of Fearless.[16] The remainder of the songs came in the last two recording sessions: one held in March 2008, the other held sometime in the summer of 2008.[8] When asked to describe to album, Swift commented, "It's the same kind of album I made (in 2006) — just two years older. Sound-wise, it's the kind of songs I like to write, which are country songs, but I guess because of the subject matter and because of some of the melodies I love to use, I guess they have crossover appeal."[10]
Writing development and lyrical content
Swift conceived the title track with Rose and songwriter Hillary Lindsey while touring. It is based on an instrumentation with acoustic guitar, fiddle, and banjo[17] and, lyrically, speaks of taking courage on the romantic circuit[18] by describing a great date.[19] She had previously contemplated the idea of a best first date, something Swift had yet to experience, and, although she was not dating at the time, she was inspired by her desires, rather than her actuality.[20] "Fifteen" was composed about Swift's freshman year of high school at Hendersonville High School,[20][21] where she met her best friend Abigail Anderson.[22] To write it, Swift first focused on were how she and Anderson fell in love for the first time and were later heartbroken.[22] She commenced with the line in the bridge "And Abigail gave everything she had to a boy/ Who changed his mind", and continued writing everything else in a backwards manner.[20] She then wrote cautionary lyrics for teenage girls facing similar scenarios.[23] After receiving consent from Anderson to use the song on Fearless,[23] Swift recorded it, and, while doing so, cried.[24] "Love Story" came late into the production of Fearless.[25] It was enkindled a love interest who her family and friends were not fond of. Feeling related to William Shakespeare's Romeo and Juliet (1597), one her favorite narratives, she self-penned the entire track on her bedroom floor in approximately twenty minutes.[26] She begun with the line, "This is difficult but it's real", which was ultimately placed in the song's second refrain,[20] and altered its conclusion from that of Romeo and Juliet, giving them a happy ending, a feat she believed her favorite characters deserved.[24] Excluding the fictional conclusion, the song was based on Swift's real life experience and, to Swift, represented much optimism regarding how encountering the right person could surpass skepticism.[24]
Swift self-penned "Hey Stephen" about her hidden feelings for Stephen Barker Liles of Love and Theft, a country band opened several shows for Swift.[27] It is characterized by a playful teen pop melody[28] that is accompanied by a subdued Hammond B-3 organ.[29] While recording the song at a studio owned by John McBride, Martina McBride's husband, he informed Swift of his children's longing to meet her. She invited them and their friends to watch the recording session, which led them to eventually lay down finger snaps for the track.[20] "White Horse" was written almost a year prior to the release of Fearless.[30] It is a ballad whose sparse production, which was based on acoustic guitar and soft piano with accents of cello,[31][32] emphasized on Swift's soft[33] and breathy vocals.[34] Swift first solely wrote the first verse. The singer then made a phone call to Rose asking for her aid in continuing the song, which was completed in approximately forty-five minutes.[35] Its conception was triggered by a boyfriend of Swift's who she perceived to be Prince Charming, but, in the downfall of the relationship, realized was not.[30] Once in the midst of writing, "White Horse" drifted in direction.[36] It was not originally intended to be included on Fearless, but on her next album, for Swift believed solemness was already accurately represented on the album. It was added after Betsy Beers and Shonda Rhimes, executive producers of Grey's Anatomy, decided to use it for the series.[20] Swift became inspired to compose "You Belong with Me" after she overheard a male friend of hers speaking to his girlfriend through a phone call. Out of the sympathy she felt towards him, Swift developed a concept for a song, and later developed the story line that she was in love with him .[20] The song is based upon different twangy, up-and-down vocal hooks[37] and has banjos clucking alongside New Wave electric guitars.[38]
In the ballad "Breathe", the accompaniment consists entirely of string instruments,[29] and Swift singing in regards to love-gone-wrong scenario.[33] The song was a collaboration between Swift and Caillat that surged out of Swift's interest in Caillat's debut Coco (2007). The two arranged a writing session to coincide with Caillat's upcoming concert in Nashville, Tennessee,[20] where they composed "Breathe" about Swift losing a friend very dear to her, and later recorded it with Caillat to singing background vocals loudly enough for audiences to recognize her.[39] "Tell Me Why" was triggered by a love interest she was never in a formal romantic relationship with. Raged by his disparaging and inconsistent behavior towards her,[20] she stormed into Rose's house, and vented about the scenario. She described how grew tired of his attitude and the discrepancies between his sayings and actions, among other concerns. They consequently all her ramblings into "Tell Me Why".[40] Swift composed "You're Not Sorry" at the moment where a relationship came tumbling down because of her lying and secretive partner.[20] It is a power ballad with rock music influences;[41] it commences with piano and progresses to electric guitars mid-song.[42] Swift had developed the fictional plot for "The Way I Loved You" (preferring complicated men for relationships), the title, and sought to write the song with Rich. He was able to relate to the plot, being that he is usually the complicated person in relationships. The two approached the song from two different angles while writing it, which she described to be incredible.[20]
"Forever & Always" was a last minute addition to Fearless, being written shortly before audio mastering was held and CD booklets were printed.[25] Swift self-penned the track about the fallout of her relationship with Joe Jonas of the Jonas Brothers.[43] "Forever & Always" was written in a state where she noticed Jonas' slow shift from her and wondered why.[20] Jonas later ended the relationship with Swift for actress Camilla Belle, whom he met on set his "Lovebug" (2008) music video.[44] Despite the track being written very late on in the album process, Swift decided she wanted to address the breakup via music, for it was a dramatic experience in her life.[25] "The Best Day" was a song Swift dedicated to her mother, Andrea Swift. It is an understated ballad, and the only song on Fearless to be written in simple verse form. She composed it while on tour in summer of 2007, and recorded it without her mother's knowledge. However, she decided to gift the song to her mother as a Christmas present. Assembling footage from home videos, Swift made a music video for it and surprised her mother with the DVD on Christmas Eve. Andrea was at first unaware it was Swift singing the track; once she noticed, she begun bawling.[20] The singer decided to include "The Best Day" on Fearless because she desired to address the fact that her mother was her best friend on an album.[45] "Change" was solely composed by Swift about her hopes and aspirations to succeed, although signed to the smallest record label in Nashville, Tennessee. After reassuring to herself that it would be different in the future, she wrote the beginning of "Change".[20] She left the song unfinished, waiting for a remarkable event to trigger its completion.[46] She then completed the track the day after she won the Horizon Award at the 2007 Country Music Association Awards and saw Scott Borchetta, the president of Big Machine Records, crying.[45]
Title, packaging and release
After completing the album's first track, Swift deeply deliberated her personal definition of the word "fearless".[47] To her, "fearless doesn't mean you're completely unafraid and it doesn't mean that you're bulletproof. It means that you have a lot of fears, but you jump anyway."[47] She then started contemplating the word to title the album, and to assure she was making the correct decision, applied to every song on the album. Finding a fearless element to the themes and messages behind the songs, Swift decided to title the album Fearless.[45] On the liner notes, she further explained the album title,
| | | |
| --- | --- | --- |
| " | This album is called Fearless, and I guess I'd like to clarify why we chose that as the title. To me, Fearless is not the absence of fear. It's not being completely unafraid. To me, Fearless is having fears, Fearless is having doubts. Lots of them. To me, Fearless is living in spite of those things that scare you to death. Fearless is falling madly in love again, even though you've been hurt before. Fearless is walking into your freshman year of high school at fifteen. Fearless is getting back up and fighting for what you want over and over again... even though every time you've tried before, you've lost. It's Fearless to have faith that someday things will change. Fearless is having the courage to say goodbye to someone who only hurts you, even though can't breathe without them. I think it's Fearless to fall for your best friend, even though he's in love with someone else. And when someone apologizes to you enough times for things they'll never stop doing, I think it's Fearless to stop believing them. It's Fearless to say "you're NOT sorry". I think loving someone despite what people think is Fearless. I think allowing yourself to cry on the bathroom floor is Fearless. Letting go is Fearless. Then, moving on and being alright... That's Fearless too. But no matter what love throws at you, you have to believe in it. You have to believe in love stories and prince charmings and happily ever after. That's why I write these songs. Because I think love is Fearless.[14] | " |
As with Taylor Swift, Swift was very involved with the album packaging. The album's images were photographed by Joseph Anthony Barker, Ash Newell and Sheryl Niels while the cover and graphic designs were executed by Leen Ann Ramey for Ramey Design.[14] Fearless was released on November 11, 2008 in the United States and Canada,[48][49] and on November 15, 2008 in Australia. The album was then re-released on February 27, 2009 in Australia as a limited edition with bonus tracks originally from Taylor Swift and a new artwork. An international edition was released March 2, 2009 in Spain, and numerous countries followed in the consequent weeks.
Reception
Critical reception
Fearless received generally positive reviews, earning a collective score of 73 out of 100 on Metacritic.[56] Stephen Thomas Erlewine of AllMusic believed Swift abandoned teen pretenses, styling herself after Shania Twain and Faith Hill prior to becoming divas. He added that Swift presented herself as a "big sister instead of a big star", pointing "Fifteen" as a prime example of it.[50] Despite noting the album's pop music elements outweighed its country music elements and calling it "one of the best mainstream pop albums of 2008", Erlewine said Fearless "never [felt] garish, a crass attempt at a crossover success".[50] Ken Tucker of Billboard wrote, "Those who thought Taylor Swift was a big deal after the release of her first record be prepared: She's about to get way bigger. Though they're written by a teenager, Swift's songs have broad appeal, and therein lies the genius and accessibility in her second effort."[33] James Reed of The Boston Globe believed Swift's charm was in her songwriting and that honesty is what separated her from other teenage starlets at the time who relied on "big-name producers, songwriters, and Disney shows for a music career."[51] Drawing similarities between her ability to "blur the line between commercial country and Top 40 radio", Reed compared the singer to a younger version of the Dixie Chicks.[51] Top music critic Robert Christgau graded the album an A-. He was not fond of the album's overall message, which he declared to be "You have to believe in love stories and prince charmings and happily ever after", but was immensely impressed with Swift's songwriting, calling her "an uncommonly-to-impossibly strong and gifted teenage girl".[52] Adding that she imparted realism similar to that of a diary in all of Fearless's songs, he believed set the bar too high for other teenage artists and role models.[52] Leah Greenblatt of Entertainment Weekly stated, "A button-cute blond teen with a pocket full of hits — sounds like the early aughts all over again, no? But aside from sharing, possibly, a box of Clairol, there is nothing remotely Britney- or Christina-esque about Swift."[53] Greenblatt presumed that at the time her fan base would remain young females due to her way of communicating with them, but would grow over time.[53]
Alexis Petridis of the United Kingdom magazine The Guardian had mixed opinions about the album, for he thought it was certainly "bland and uninventive", yet executed incredibly well. Over the course of listening to it, he queried if more music of the sort was needed, and concluded that "the feeling that the world is going to answer your query in the affirmative swiftly overwhelms you."[54] Jody Rosen of Rolling Stone called Swift "a songwriting savant with an intuitive gift for verse-chorus-bridge architecture that [...] calls to mind Swedish pop gods Dr. Luke and Max Martin."[17] Rosen attributed Swift's particular charm to in how intertwined almost impersonal professionalism with intimate and real confessions.[17] Jonathan Keefe of Slant Magazine believed Fearless pointed out that Swift was capable of having a long musical career. However, Keefe was disappointed in the album, for it did not showcase significant refinements as she did on Taylor Swift; but, with an immature voice and young age, to him, Swift still had enough time to perfect her craft and make a great album.[28] Josh Love of The Village Voice wrote, "This remarkably self-aware adolescent's words don't falter, masterfully avoiding the typical diarist's pitfalls of trite banality and pseudo-profound bullshit."[55] Chris Richards of The Washington Post said, "In Swift's world, every song is a radio-ready charmer, confirming the 18-year-old's ability to pen a gaggle of consistently pleasing tunes."[38] He noted Swift's voice was only minimally twangful and her vocal delivery was sugary enough to receive heavy rotation on Radio Disney, yet poised enough to do the same CMT. He also felt Swift was a talented songwriter, but her consistency sometimes fell into uniformity.[38]
Awards and nominations
At the 52nd Grammy Awards, Fearless won the Grammy Award for Album of the Year and Best Country Album.[57] Swift's Album of the Year win made her the youngest person ever at the age of 20 to receive that award, thereby surpassing Alanis Morissette's win for Jagged Little Pill at the age of 21. Fearless was also the first album in history to win the American Music Award, Academy of Country Music Award, Country Music Association Award, and Grammy Award for Album of The Year in the same year making it the most awarded album in the history of country music.[58]
Chart performance
On the week ending November 29, 2008, Fearless entered at the summit of the United States' Billboard 200 with over 592,000 copies sold in its first week — the largest sum for a country album since the Eagles' Long Road out of Eden sold over 711,000 copies in a single week in November 2007.[59] In the proceeding week, the album descended to number four with over 217,000 copies sold (a 63 percent decline from the previous week).[60] Three weeks later, the album reclaimed the number one position with over 249,000 copies sold, and was able to top the Billboard 200 for a total of 11 non-consecutive weeks.[61] It became the longest chart-topper since Santana's Supernatural spent 12 non-consecutive weeks at number one between 1999 and 2000,[62] and the longest reign on the Billboard 200 of the 2000s decade.[63] Furthermore, Fearless became the longest chart-topper by a female country artist, third by a country artist overall,[64] and sixth by a female artist, along with Mariah Carey's 1990 eponymous debut album.[65] After completing its Billboard 200 reign in March 2009,[61] the album continued to sell strongly throughout the remainder of 2009. It went on to sell over 3,217,000 copies in the year, becoming 2009's best-selling album in the US. Thus, Swift, at the age of 20, became the youngest artist to have the year's best-selling album and the only female country artist to have one as well.[66] Fearless' success extended years beyond its release. The week ending January 30, 2010 marked its 52nd week on the top ten of the Billboard 200, making Fearless one of 18 albums to remain on the top ten for a year or more, and the only one from the 2000s.[67] The album logged a total of 58 weeks on the top ten, becoming the longest-running top ten album by a country artist.[68] On Billboard's Top Country Albums chart, Fearless remained number one for 35 non-consecutive weeks.[69] The album was certified six times platinum by the Recording Industry Association of America (RIAA) for shipments exceeding six million copies.[70] As of Oct 2012, Fearless has sold over 6.6 million copies in the US.[71] It is ranked as the second biggest-selling album in the last six years[72] and the sixth best-selling digital album in history.[73] The song has 206 weeks on Billboard 200.[74]
In Canada, Fearless entered at number one on the albums chart with sales of over 27,000 copies on the week ending November 29, 2008.[75] Although only spending one week at number one, the album charted in Canada for a total of 66 weeks,[76] and was certified quadruple platinum by the Music Canada for shipments exceeding 320,000 copies.[77] The album also managed success overseas. In Australia, it debuted at number 50 on the week ending November 30, 2008 and dropped from the chart in the succeeding week. On the week ending January 25, 2009, it re-entered the Australian Albums Chart at number 42, and, nine weeks later, on the week ending April 26, 2009, peaked at number two.[78] Fearless was certified quintuple platinum by Australian Recording Industry Association (ARIA) for shipments exceeding 350,000 copies.[79] In New Zealand, Fearless debuted at number two on the week ending March 16, 2009 and ascended to the top spot in the following week.[80] It was certified double platinum by the Recording Industry Association of New Zealand (RIANZ) for the shipment of 30,000 copies.[81]
The album sold over 400,000 copies throughout all of Asia as of February 2011.[82] In Japan, it debuted at number 22 with 4,945 copies sold on the first week of July 2009,[83] and peaked at number eight.[84] It was eventually certified gold by the Recording Industry Association of Japan (RIAJ) for the shipment of over 100,000 copies.[85] In the Philippines, it was certified nine times platinum (its highest worldwide) by the Philippine Association of the Record Industry (PARI) for the sales of over 135,000 copies.[86] In Europe, Fearless also performed well, charting at number eighteen on European Top 100 Albums.[87] Achieving its highest peak in Europe, the album debuted at number five on the UK Albums Chart on the week ending March 21, 2009.[88] Despite descending in the continuing weeks, the album remained on the UK Albums Chart for 63 weeks,[88] and was certified platinum by the British Phonographic Industry (BPI) for the shipment of 300,000 copies.[89] In Ireland, the album peaked at number seven,[90] and was certified double platinum by the Irish Recorded Music Association (IRMA) for shipments exceeding 30,000 copies.[91] Fearless saw less success in mainland Europe, charting within the top twenty in Austria, Germany, Greece, Norway, Russia, and Sweden. In total, Fearless has sold over 8,681,000 copies worldwide as of March 2011.[92]
Singles
"Love Story" was released as the album's lead single on September 12, 2008 via digital distribution. The song was highly acclaimed by music critics who complimented Swift's writing style and the song's plot.[93] The track was also a commercial success internationally. It is Swift's best-selling single to date, pushing over 6.5 million copies worldwide since January 2010, therefore establishing itself among of the best-selling singles of all time.[94] In the United States, "Love Story" has sold over 5 million digital downloads as of May 2011 and became one of the best-selling singles in the United States.[95] It is the best-selling country single of all time, and was later surpassed by Lady Antebellum's "Need You Now" (2009) in April 2011, but now returned at her record.[96] Furthermore, "Love Story" peaked at number four on the Billboard Hot 100[97] and marked the highest peak by a country song on Mainstream Top 40 (Pop Songs) since Shania Twain's "You're Still the One" (1998).[98] The track was also Swift's only number one single in Australia,[99] where it was certified triple platinum by the Australian Recording Industry Association (ARIA).[100] An accompanying music video for "Love Story" was directed by Trey Fanjoy and follows Swift and a love interest as they meet in a university campus and imagine themselves in a prior era.[101]
"White Horse" became Fearless' second single on December 9, 2008. It garnered generally positive reception with critics commenting that Swift was able to make its message palpable[33] and selecting it among the best tracks on Fearless.[34] Although not able to duplicate the success of its predecessor, the ballad was able to perform well commercially. It peaked at number thirteen in the Billboard Hot 100 and number two on Hot Country Songs.[102] It sold over 1.6 million copies in the United States as of February 2011[95] and managed to chart in Australia,[103] Canada,[102] and the United Kingdom.[104] "White Horse"'s music video was also directed by Fanjoy and features Swift as she decides to end a relationship via phone call after recalling multiple memories with her love interest.[105]
"You Belong with Me" was released as the third single from Fearless on April 26, 2009. Critical reception for the song was mixed, ranging from "every single Taylor Swift hit sounds the same"[106] to naming one of her best songs.[34] However, "You Belong with Me" enjoyed commercial internationally. In the United States, the song is tied for Swift's best-charting effort, with "Today Was a Fairytale" (2010), at number two.[107] Driven mostly by non-country radio airplay, the song established the largest crossover radio audience since Faith Hill's "Breathe" (2000).[108] Selling over 3.6 million copies as of February 2011, the track is the third best-selling country single of all time.[109] Roman White directed the music video for "You Belong with Me", which plot centers on the protagonist secretively loving the male lead, although he has a girlfriend; both the protagonist and antagonist were portrayed by Swift.[110] It won the MTV Video Music Award for Best Female Video in 2009, but during Swift's acceptance speech, rapper Kanye West interrupted, protesting in support of nominee Beyoncé Knowles. The incident caused tumult in the media, with many coming to Swift's defense.[111]
"Fifteen" was released as the fourth single from the album on September 1, 2009. It was praised by numerous critics for its vulnerability and accurate portrayal of a real teenager.[112] Commercially, "Fifteen" was mildly successful, peaking at number twenty-one on the Billboard Hot 100 and number nineteen on the Canadian Hot 100.[113] In the United States, the song sold over 1.1 million digital downloads as of February 2011.[95] The music video for the single was directed by White and is heavily accentuated with special effects. It features Swift walking through a garden, where she relives many memories with her friend.[114]
"Fearless", the album's title track, became the fifth and final single released from Fearless on January 4, 2010. The song generally pleased contemporary critics, many who complimented it for appealing to different age groups.[115] The song peaked at number nine on the Billboard Hot 100 after its release as a promotional single.[116] During that time, it was certified gold by the Recording Industry Association of America (RIAA) for the sales of over 500,000 digital downloads.[117] It therefore became the first single released after being certified gold by the RIAA.[18] Once released as a single, "Fearless" was only able to reach the position of number seventy-six.[118] It also peaked at number thirty-two in Spain.[119] The title track has an associated music video consisting of footage of the tour itself and backstage; it was directed by Todd Cassetty.[120]
Promotion
To promote the album Swift released four promotional singles, advertised as "Countdown to Fearless". The first promotional single released was "Change" on August 8, 2008. The song was also included as part of the AT&T Team USA Soundtrack (2008).[121] "Fearless" was released as the second promotional single on October 14, 2008.[122] The third promotional single, "You're Not Sorry", was released October 28, 2008. The fourth and final song used to promote the album, "You Belong with Me", was released on November 4, 2008.
On June 8, 2008,[123] Swift performed on the Clear Channel Stripped to promote Fearless. Two of the performances would later be released on the Target exclusive version of Fearless Platinum Edition.[124]
Tour
On April 23, 2009, Swift began her first headlining tour called the Fearless Tour in North America. It ran until June 5, 2010 and had four legs and 105 shows in four countries. Sells for the tour began in February 2009 and tickets for several tour dates and venues were sold out in a record of less than one minute.[125][126][127]
Platinum Edition re-release
Swift had already commenced to compose songs for her next album, what would become Speak Now (2010), but had also written songs she believed did not correspond with her scope of the record. She believed the songs that had accumulated should have been integrated in Fearless. Out of her desire to release them, Swift pondered the idea of re-releasing Fearless with the songs.[8] Coupled the fact that numerous fans were longing for new material while others were recently discovering her music, she decided to execute the plans.[8] Scott Borchetta, chief executive officer (CEO) of Big Machine Records stated, "Taylor's fans have an incredible appetite for her new music and her ongoing life experiences. The two million-plus fans who bought Fearless within weeks of release last year are screaming for new Taylor music and Taylor has delivered."[128] Some tracks were written much prior recording, while others were done subsequently. "Jump Then Fall" was self-penned by Swift using a banjo and a "feel-good vibe", which, along with its bouncy character, caused for it to be Swift's favorite song on the re-release.[129] Swift also reworked the tempo and replaced the guitar-driven instrumentation to piano of "Forever & Always" for the new version of Fearless.[128]
It included Swift's only cover on a studio album, a rendition of American rock band Luna Halo's "Untouchable" (2007). Borchetta previously had requested Swift to perform a cover on the television show Stripped in August 2008.[130] Swift recalled that Borchetta had given her Luna Halo's eponymous second studio album to listen to, and ultimately chose to cover "Untouchable". Swift altered the song both musically and lyrically, altering the verses' melodies significantly while completely reworking the arrangement and switching the verses while maintaining the refrains similar.[130] Once performed, video uploads of the Stripped performance and fans imitating it surfaced on YouTube.[130] Its popularity on the video-sharing site led Borchetta to convince Swift to record the song for the re-release of Fearless.[130] The members of Luna Halo consented the cover's inclusion in part because of Swift's popularity and commercial success; the band also gave Swift writing credits for her cover as they felt it was appropriate since the song was altered drastically.[130]
Titled Fearless Platinum Edition, the re-release was announced on September 10, 2009 with a release date of October 27, 2009.[128] It was then pushed forward one day, to a release to October 26, 2009.[131] Fearless Platinum Edition bared a new collector's cover that altered the background color to black and included a CD and a DVD.[128] The CD had an additional six songs — "Jump Then Fall", "Untouchable", "Forever & Always" (Piano Version), "Come in with the Rain", "SuperStar", and "The Other Side of the Door" — placed prior to the original tracks from the album.[128] The DVD comprised music videos ("Change", "The Best Day", "Love Story", "White Horse", and "You Belong with Me"). behind-the-scenes videos (for the latter three), over fifty images (photographed by Austin K. Swift, the singer's younger brother) and backstage footage from the first concert of the Fearless Tour, and "Thug Story" (a video with rapper T-Pain filmed exclusively for the 2009 CMT Music Awards).[128]
Track listing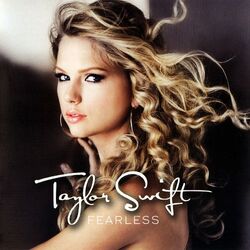 UK standard digital bonus track
No.
Title
Writer(s)
Length
17.
"Love Story"

(J Stax Radio Mix)

Swift
3:38
Total length:
57:11
Platinum Edition bonus tracks[132]
No.
Title
Writer(s)
Length
1.
"Jump Then Fall"
Swift
3:57
2.
"Untouchable"
Swift, Cary Barlowe, Nathan Barlowe, Tommy Lee James
5:12
3.
"Forever & Always"

(Piano Version)

Swift
4:28
4.
"Come in with the Rain"
Swift, Rose
3:58
5.
"Superstar"
Swift, Rose
4:22
6.
"The Other Side of the Door"
Swift
3:58
Total length:
79:24
Target bonus DVD
No.
Title
Length
12.
"Untouchable" (Live from Clear Channel's Stripped)
3:45
13.
"Fearless" (Live from Clear Channel's Stripped)
3:23
Personnel
As listed in the liner notes.[14]
Anthony Joseph Baker – photography
Steve Blackmon – mixing assistant
Drew Bollman – mixing assistant
Scott Borchetta – executive producer
Andrew Bowers – finger snapping
Nicholas Brown – finger snapping
Nick Buda – drums
Kenzie Butler – assistant engineer, engineer
Colbie Caillat – finger snapping, guest appearance
Jason Campbell – production coordinator
Chad Carlson – engineer, mixing, sound recording
Joseph Cassell – wardrobe stylist
Todd Cassetty – enhanced recording
Nathan Chapman – acoustic guitar, bass guitar, electric guitar, keyboard, Hammond organ, mandolin, mixing, percussion instruments, piano, producer, programming, steel guitar, vocal harmony
Carolyn cooper – finger snapping
Burrus Cox – finger snapping
Eric Darken – percussion instruments, vibraphone
Shawn Daughtry – mixing assistant
Dan Dugmore – steel guitar
Lauren Elcan – finger snapping
Caitlin Evanson – vocal harmony
Kyle Ford – assistant engineer, engineer
Kyle Ginther – assistant engineer, engineer
Kenny Greenberg – electric guitar
Jed Hackett – engineer
Rob Hajacos – fiddle
Tony Harrell – Hammond organ, keyboard, piano

Amos Heller – bass guitar
Claire Indie – cello
John Keefe – drums
Tim Lauer – Hammond organ, keyboard, piano
Matt Legge – assistant engineer, engineer
Tim Marks – bass guitar
Delaney McBride – finger snapping
Emma McBride – finger snapping
Justin McIntosh – graphic design
Grant Mickelson – electric guitar
Ash Newell – photography
Justin Niebank – mixing
Sheryl Nields – photography
Mark Petaccia – assistant engineer, engineer
Lee Ann Ramey – cover art, graphic design
Sandi Spika – hair stylist, make-up artist, wardrobe stylist
Bryan Sutton – acoustic guitar, mandolin
Whitney Sutton – copy coordinator
Taylor Swift – booklet design, lead vocals, producer, vocal harmony
Todd Tidwell – assistant engineer, engineer, mixing assistant
Ilya Toshinsky – banjo
Lorrie Turk – make-up artist
Brady Wardlaw – hair stylist
Hank Williams – mastering
Brian David Willis – engineer
Al Wilson – percussion
Jonathan Yudkin – cello, string arrangements, string instruments
Charts and sales
Charts
Certifications
Year-end charts
| Chart (2008) | Position |
| --- | --- |
| US Billboard 200[153] | 66 |
| US Top Country Albums[154] | 13 |
| Chart (2009) | Position |
| Australian Albums Chart[155] | 4 |
| Canadian Albums Chart[156] | 2 |
| New Zealand Albums Chart[157] | 2 |
| UK Albums Chart[158] | 46 |
| US Billboard 200[159] | 1 |
| US Top Country Albums[160] | 1 |
| Chart (2010) | Position |
| Australian Albums Chart[161] | 17 |
| Canadian Albums Chart[162] | 14 |
| Japanese Albums Chart[163] | 75 |
| New Zealand Albums Chart[157] | 31 |
| UK Albums Chart[164] | 122 |
| US Billboard 200[165] | 7 |
| US Top Country Albums[166] | 2 |
| Chart (2011) | Position |
| US Billboard 200[167] | 88 |
| US Top Country Albums[168] | 42 |
| Chart (2012) | Position |
| US Billboard 200[169] | 126 |
Decade-end charts
| Decade-end charts (2000s) | Position |
| --- | --- |
| Australia Albums Chart[170] | 87 |
| US Billboard 200[171] | 56 |
Singles
Chart precession and succession
Template:S-start-collapsible Template:S-bef |width="40%" style="text-align: center;" rowspan="1"|Canadian Albums Chart number-one album
November 29, 2008 |width="30%" align="center" rowspan="1"| Succeeded by
Dark Horse by Nickelback |- Template:S-bef |width="40%" style="text-align: center;" rowspan="1"|New Zealand RIANZ Albums Chart number-one album
March 23, 2009 |width="30%" align="center" rowspan="1"| Succeeded by
Only by the Night by Kings of Leon |- Template:S-bef |width="40%" style="text-align: center;" rowspan="1"|Billboard 200 number-one album
November 28, 2008
December 27, 2008 – February 7, 2009
February 28 – March 14, 2009 |width="30%" align="center" rowspan="1"| Succeeded by
I Am... Sasha Fierce by Beyoncé
Working on a Dream by Bruce Springsteen
No Line on the Horizon by U2 |- Template:S-bef |width="40%" style="text-align: center;" rowspan="1"|Top Country Albums number-one album
November 29, 2008 – February 14, 2009
February 28 – April 4, 2009
August 1–15, 2009
September 19, 2009
October 3–10, 2009
October 31, 2009
November 14, 2009
December 12, 2009 – February 6, 2010 |width="30%" align="center" rowspan="1"| Succeeded by
Feel That Fire by Dierks Bentley
Shine by Martina McBride
Live on the Inside by Sugarland
#1's... and Then Some by Brooks & Dunn
Revolution by Miranda Lambert
Southern Voice by Tim McGraw
Play On by Carrie Underwood
Need You Now by Lady Antebellum |- Template:S-bef |width="40%" style="text-align: center;" rowspan="1"|Billboard Top Albums of the Year
2009 |width="30%" align="center" rowspan="1"| Succeeded by
Recovery by Eminem |- Template:S-bef |width="40%" style="text-align: center;" rowspan="1"|Billboard Top Country Album of the Year
2009 |width="30%" align="center" rowspan="1"| Succeeded by
Need You Now by Lady Antebellum |- |}
See also
References
External links