Grant Mickelson
was the Guitarist in
Taylor Swift
's band,
The Agency
, From 2007-2015. Grant Mickelson is a Nashville-based country, rock and jazz musician who specializes in electric and acoustic guitar. He also sings back-up vocals for Taylor and plays mandolin.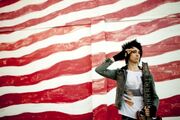 Grant was born on April 30, 1984 and he was raised in Sioux City, Iowa. His passion for the guitar took him to Texas, where he majored in Jazz Studies at the University of North Texas. In 2004, he moved to Nashville, where he studied music at Belmont University and began making contacts in the music industry. He and Taylor are really good friends and like to mess about together, such as trying out her iPhone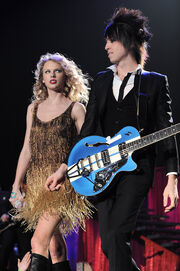 app
Mix Me In2 Taylor Swift
, and was seen on her YouTube channel playing around with a
melodica
, which they later presented as a welcome gift to
David
.
Grant loves rock music and, like Taylor, history, especially Abraham Lincoln. For his 27th birthday in 2011, Taylor bought him a life-size Abe cardboard cutout.
He has worked with many other artists but says Taylor knows her audience better than any of them, though they are all older and more experienced. He says she's made for this job and is an amazing performer, she knows what her audience wants. He says he has the best job ever.
And yes. He's the one with the hair on stage. They call him rooster sometimes. And he's the most organized one in the band.
Grant is currently in a relationship with Claire Callaway, one of Taylor's dancers.
Update: He has left the agency, and will not continue during the 1989 Era. (Though nothing has been confirmed by Grant himself)
External Links
Community content is available under
CC-BY-SA
unless otherwise noted.