Harry Edward Styles (born February 1, 1994) is a famous member of the British-Irish boy band One Direction. He dated Taylor Swift for a month and talked about this later in an interview with Rolling Stone [1].
He was previously in One Direction, with Zayn Malik, who co-wrote I Don't Wanna Live Forever with Taylor.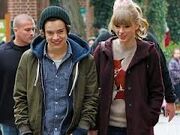 Their romance was called "Haylor" (Harry and Taylor).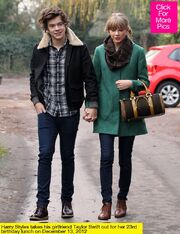 Instances when they were together
December 2, 2012 - The two were seen taking a stroll in a New York's Central Park (see picture on the right).
They were spotted singing at a karaoke bar together. [1]
December 13, 2012 - On Taylor's birthday, Harry treated her to a meal at the George and Dragon Hotel in Cheshire, along with £1000 of gifts including perfume, a Jimmy Choo bag and some antique earrings. [2]
Taylor announced that she is willing to spend $80,000 for Harry on his birthday. [3]
December 18, 2012 - Taylor came with Harry when he went to get a new tattoo. [4]
December 19, 2012 - Taylor's mother, Andrea Swift, and Harry met in Los Angeles.
Harry was supposed to meet with Taylor in New York, but Taylor was far from where Harry was, so Harry booked a flight to see Taylor. Unfortunately, Harry forgot his passport at home, and missed his flight. He waited for eight hours until the next flight to his destination. [5]
December 25, 2012 - Harry gave Taylor a sing-a-gram for Christmas. [6]
January 1, 2013 - Harry and Taylor kissed at the stroke of midnight in Times Square. [2]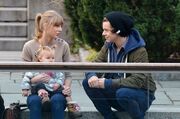 References