To read more about this challenge, visit the Wikipedia page.[1]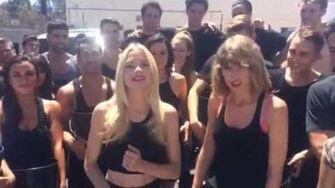 Taylor
and
Jaime King
partook in the
ALS Ice Bucket Challenge
to raise money for ALS research.
Taylor Swift uploaded a YouTube video of her doing this with others on October 6, 2014.
As a tradition, they thanked those who challenged them, Ingrid Michaelson and Lily Aldridge, and mentioned the people they challenged in return. Taylor nominated Selena Gomez, Emma Stone, and Ed Sheeran. She held a handful of cash showing she was also donating money to the cause.
Selena Gomez has thanked Taylor for the challenge and accepted, having cold water dumped on her head.
List of celebrities who participated at Cultural Phenomenons.[2]
References
Community content is available under
CC-BY-SA
unless otherwise noted.