Wikipedia has an article about it at [1].
Some haters there deleted to delete a list of all the famous people who participated in it, so I moved that list to a wikia I made for Cultural Phenomenons. [2]
Taylor Swift uploaded a YouTube video of her doing this with others on October 6 2014.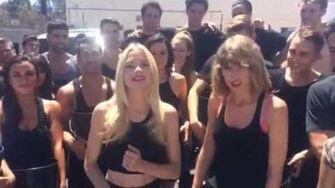 She was with Jamie King. As tradition, they thanked those who challenged them, Ingrid Michaelson and Lily Aldridge, and mentioned the people they challenged in return. Taylor nominated Selena Gomez, Emma Stone, and Ed Sheeran. She had a lot of cash showing she was also donating money to the cause.
Selena Gomez has thanked Taylor for the challenge and accepted, having cold water dumped on her head.