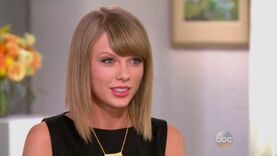 A list of every interview Taylor Swift has ever done in magazines, radio, television, internet, or directly into your mind. Note: please make certain you are perfectly sane before submitting things in the last category. We all know she has telepathic powers, as women that amazing often do, but not every dream you have is sent by her.
If there is an official website to link to, please do so.
Magazine Interviews
Disney Dreaming
Elle
InStyle
Marie Claire
MMM-mag
Parade
Rolling Stone
Seventeen magazine
Women's Health magazine
Total Girl Philippines magazine
MTV magazine
Billboard magazine
Cosmopolitan magazine
Radio Interviews
Television Interviews
Internet Interviews and Information
ClevverTV
Daily Mail
Digital Spy
People
3 News
Other
YouTube Interviews
Community content is available under
CC-BY-SA
unless otherwise noted.