Katheryn Elizabeth Hudson, better known by her stage name, Katy Perry, (born on October 25, 1984) is an American pop singer-songwriter and actress who is one of Taylor Swift's friends. Perry had mentioned it during interviews, and they used to be seen hanging in public.
Career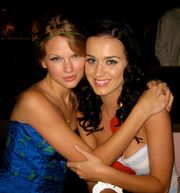 In addition to being a friend of Taylor's, Perry has achieved success herself with three platinum-selling albums, 2008's One of the Boys, 2010's Teenage Dream, and 2013's Prism. Her numerous hits include "I Kissed A Girl", "California Gurls", "Part of Me", "Wide Awake", and "Roar".
On April 15, 2010, at a Taylor Swift concert in Los Angeles at the Staples Center, Taylor surprised her audience by having Perry rise from the stage to join her to sing "Hot N Cold".
Perry was a judge alongside country music star Luke Bryan and R&B/pop legend Lionel Richie on the ABC revival of ​American Idol ​when it premiered in March 2018. It has been confirmed she will judge for the following season as well.
Personal life
Perry, who was previously married to British comedian and actor Russell Brand, had been an on-off relationship with one of Taylor's ex-boyfriends, singer-songwriter John Mayer, which has attracted tabloid headlines. They even did a song together called "Who You Love" for his 2013 album, Paradise Valley. She has also dated DJ/producer Thomas "Diplo" Pentz, who has worked with artists such as M.I.A. and Usher. Diplo once tweeted a nasty comment about Taylor that caused her friend, singer Lorde, to come to her defense on Twitter[citation needed].
Perry is now engaged to British actor Orlando Bloom as of February 15, 2019.
Feud
In a Rolling Stone interview, Taylor commented on Katy saying: "For years, I was never sure if we were friends or not. She would come up to me at awards shows and say something and walk away, and I would think, 'Are we friends, or did she just give me the harshest insult of my life?'" "She did something so horrible. I was like, 'Oh, we're just straight-up enemies.' And it wasn't even about a guy! It had to do with business. She basically tried to sabotage an entire arena tour. She tried to hire a bunch of people out from under me."
Taylor's song, "Bad Blood", is rumored to be about Katy, although no one has confirmed this.

It is also rumored that Katy's song "Swish Swish" is a response to Taylor.

They feuded from 2014 to 2018, until Katy sent Taylor an olive branch and an apology note on the first night of the Reputation Stadium Tour.
Katy was featured at the end of Taylor's video for "You Need to Calm Down".
See also
Gallery - A gallery of photos featuring Katy Perry.
Official accounts