For more information, visit their Wikipedia page.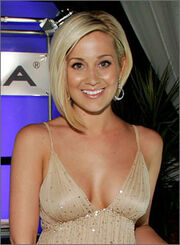 Kellie Dawn Pickler (born June 28, 1986) is an American country singer-songwriter who is close friends with Taylor Swift. First met her while on tour together with fellow country singer Brad Paisley.
Background
Pickler, who is from Albemarle, North Carolina, first gained notice when she competed on season 5 of the hit singing show American Idol where she finished in 6th place. She has gone on to become a country star herself with hit singles such as "Red High Heels" and "Best Days of Your Life".
Friendship with Taylor
Went on tour with her. While talking with Taylor one day, they were discussing how a boy had broken her heart. Taylor got out her guitar, and 20-30 minutes later, they had written a song about it titled "Best Days of Your Life", which is on Pickler's self-titled second album. It went on to become a hit. She even sang the song as a duet with season 15 Idol contestant Tristan McIntosh on the February 18, 2016 episode of Idol.
Trivia
Fears the ramps at the shows, her heels not able to climb up it, and that's her greatest fear.
Owns a python that will one day grow to five feet long and eat everyone. [1]
Personal Life
Pickler has been married to songwriter Kyle Jacobs since January 1, 2011. The couple had been dating since 2009. The two currently star in the CMT show I Love Kellie Pickler.
Dancing with The Stars
On May 21, 2013, Pickler won season 16 of the popular dance competition show Dancing with The Stars alongside her partner, pro dancer Derek Hough.
See Also
Gallery - A gallery featuring pictures of Kellie Pickler.
External links