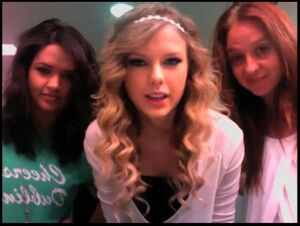 Elizabeth Huett (Liz)
 was one of Taylor's backup singers and friends.
Liz Huett was born on May 27, 1987 in Riverside, California. She was fostered and later adopted as a baby in a family with four kids of their own. She has met her biological mother and brothers. She keeps a good relationship with both families.
Others joke that she sleeps all the time. [1]
She does background vocals from Taylor Swift's Fearless and Speak Now tour and toured with her around the world.
She met her in a meet and greet line, when Taylor was performing at a club, she stating she wanted to be a singer so Taylor brought her into her dressing room where she sang for her, and Taylor gave her some advice. She later worked at a radio station where she met Taylor again when she was there promoting something. She then moves to Nashville, and seven months later auditions to be Taylor's backup singer.
She's now out of "The Agency" because she wanted to go solo and be a singer. She was replaced with 4 new back up dancers/singers, Carly Thomas Smith, Clare Turton, Kamilah Marshall and Melanie Nyema.[2]
References
External links
Community content is available under
CC-BY-SA
unless otherwise noted.