See the Lorde Wikia for more information about her.
Ella Marija Lani Yelich-O'Connor (born November 7, 1996), better known by her stage name Lorde, is a Grammy Award-winning New Zealand singer-songwriter who is a friend of Taylor Swift's.
In addition to being a friend of Taylor's, Lorde has achieved success in her own career thanks to her 2013 hit "Royals", which hit number 1 on the Billboard Hot 100, won her two Grammys, and is off of her 2012 EP The Love Club. Her full-length debut album, Pure Heroine, which features the hit single "Team", was released in September 2013. It has since gone platinum. She later released the single, "Yellow Flicker Beat", which is off the soundtrack of the 2014 film The Hunger Games: Mockingjay - Part 1 and was nominated for Best Original Song at the 72nd Golden Globe Awards. Her second album, Melodrama, which features the single "Green Light", was released on June 16, 2017.
Lorde, who is very outspoken and opinionated, has spoken fondly of Taylor in various interviews despite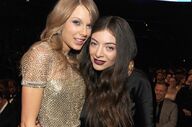 once calling her a bad role model, and the two were even photographed together. Both ladies text each other regularly, and Lorde even helped Taylor celebrate her 24th birthday in Australia. Lorde had even expressed interest in collaborating with Taylor on a song. She later admitted in an interview that this was something neither she nor Taylor were interested in doing.
Ella was seen at the control booth talking to Taylor's mother at the first RED concert in Auckland, New Zealand. Taylor also hugged Lorde during performing her hit song "22".
In an interview with The Guardian, Lorde was asked about her friendship with Taylor Swift, to which she responded with "It's like having a friend with very specific allergies. There are certain places you can't go together. Certain things you can't do. There are these different sets of considerations within the friendship. It's like having a friend with an autoimmune disease." People reacted negatively, with it seeming like Lorde had threw subtle shade at her friend. A Twitter user posted a tweet saying "I wonder how @selenagomez feels about this. What an incredibly ignorant analogy to make @lorde." Lorde apologized saying "@stefinitely85 didn't mention taylor, but regardless, i f--ked up & that was really insensitive. i'm sorry."
Personal Life
Lorde dated photographer James Lowe from around 2014 to 2016.
What Lorde said about Taylor
In September 2013, Lorde commented about Taylor Swift saying she was a bad role model for women while being interviewed with Metro Arts Auckland.
| | | |
| --- | --- | --- |
| " | "Taylor Swift is so flawless, and so unattainable, and I don't think it's breeding anything good in young girls. 'I'm never going to be like Taylor Swift, why can't I be as pretty as Lorde?' That's f****** bulls***," | " |
In November 2013, Lorde invited Taylor for lunch to apologize to Taylor for her rude comments.
Community content is available under
CC-BY-SA
unless otherwise noted.