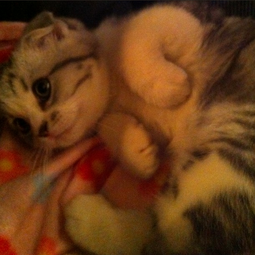 Meredith Grey is one of Taylor's pets, a Scottish Fold cat, named after the character Meredith Grey (played by Ellen Pompeo) from Taylor's favorite show Grey's Anatomy. Taylor bought Meredith on October 31, 2011.[1] She is included in a lot of Taylor's social media posts. Meredith is the older "sister" of Olivia Benson, and her little brother is Benjamin Button.
Taylor has been reported saying that 'Meredith is one of the best cats. She doesn't leave fur or fur balls and she is never aggressive or afraid of being around people.'
Meredith Grey Swift is also known to be very good as a traveling companion.
Appearances
Taylor has a YouTube home movie of her petting the cat, which would make a noise to get her to start again whenever she stopped.[2] "Are you training me" she asks amused and perhaps a bit concerned.
An additional YouTube video has been upload by Taylor of her having a discussion with Meredith about online voting for an award she wants to win.[3] In addition to being the most adorable cat ever, Meredith has the ability to speak. Subtitles are provided in the video, for those who don't speak the cat language yet.
She appeared on an episode of The Ellen Show showing a video clip of her cat.
She appeared in a vine video which Taylor posted on twitter where Taylor is watching the Titanic movie.[4]
Taylor Swift often post photos of Meredith in Taylor's twitter account. Meredith and Olivia have several social media accounts set up by Taylor and her brother, Austin.
The two sisters were even featured in an Instagram picture taken by Taylor's boyfriend at the time, Calvin Harris, which he captioned "Moment". He also posted a video of Meredith drinking water from a faucet.
Meredith is seen at the beginning of the music video for Taylor's 2019 single, "ME!", alongside Olivia on a couch.
In April 2021, Taylor addressed a "pressing issue" as to why Meredith had not appeared for over a year. According to her Facebook post (https://fb.watch/4YetkZrT11/), "The truth is, Meredith just HATES having her picture taken."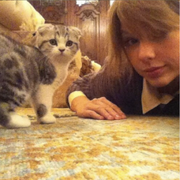 References