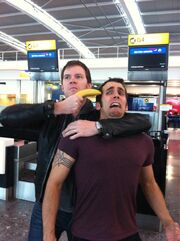 Mike Meadows, plays mandolin, guitar, banjo, keyboards and occasionally, backing vocals. He also plays cello, bass and writes his own music.
He was born on April the 1st in Charlottesville, Virginia. He has played music for as long as he can remember. He started playing guitar at the age of 8, and started singing shortly thereafter. He used guitar as a gateway to other instruments and eventually earned a Bachelors Degree in Cello Performance from James Madison University. He went on to play bass and sing bvox for Pat McGee Band before he started his gig of playing guitar, mandolin, harmonica, and singing bvox for Lyric Street Recording artist Josh Gracin.
He's a songwriter / performer / producer /cellist / guitarist / bassist / singer. He's currently working on a way to play all those things at the same time, but he can't seem to make it not look like he's trying too hard. He's been playing for Josh Gracin (Lyric Street Records), Pat McGee Band (Warner Bros.), MoneyPenny. He's working on a new record with a band called Tailgate South out of Nashville.
He joined the Agency for Taylor Swift's Fearless tour. He is now married to Brittany Milton.
A banjo player and champion banana gunman, he got to be on Taylor Swift's band after taking Amos hostage with a banana, as seen in this photograph. The whole banana affair is a rather slippery subject, and no one knows exactly how it all worked out.
Community content is available under
CC-BY-SA
unless otherwise noted.