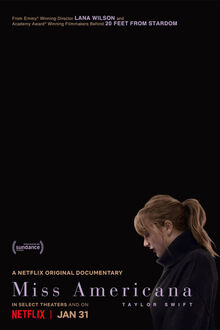 Miss Americana is a documentary released on a streaming website called Netflix on the 31st of January, 2020. Directed by Lana Wilson, this documentary film gives viewers a raw and emotional insight into what Taylor Swift has been going through over the last couple of years, both career-wise and personally.
The film originally debuted on January 23rd at the opening night of the 2020 Sundance Film Festival, eight days prior to the online premiere.
It has received (and continues to receive) high praise from many critics, who admire the raw emotion and vulnerability that is shown in this film.
Taylor Swift first expressed interest in making a documentary after the release of the Netflix concert film, Taylor Swift: Reputation Stadium Tour. Lana Wilson started filming the documentary at the near end of the Reputation Stadium Tour and era and joined Taylor Swift for the recording sessions for her seventh and latest album, Lover. The name of this documentary originated from the name of the 7th track on Lover, "Miss Americana & the Heartbreak Prince", a song about Taylor Swift's distaste for American government and current politics.
In the film, there is also a scene showing Taylor Swift with Joel Little, the producer of this song, writing and creating a melody for a new song to come out soon after the film.
It was named "Only the Young". This song was written after the 2018 United States elections when Taylor finally broke her silence about politics and made a statement online. Some of the lyrics in this song also advocate for gun shootings in schools.
The song is also played for the end credits.
The main cast for this film includes:
Andrea Swift (her mother)
Scott Swift (her father)
Abigail Anderson (her best friend)
Tree Paine, (her publicist)
Robert G. Allen, (her manager)
Joe Alwyn, (her current love interest)
Jack Antonoff, (one of her record producers)
Joel Little, (one of her record producers)
Max Martin, (one of her record producers)
Dave Meyers, (music video director)
Brendon Urie, (musician)
Todrick Hall, (musician)
Paul Sidoti, (guitarist)
Merchandise
For a list of merchandise released for the film, visit Miss Americana/Merchandise.
Community content is available under
CC-BY-SA
unless otherwise noted.