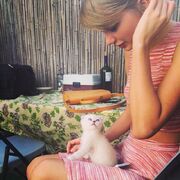 In June of 2014, Taylor got a new cat she named Olivia Benson after the character portrayed by Mariska Hargitay on Law & Order: SVU, one of Taylor's favorite television shows.
She is the younger "sister" to Meredith Grey, and older "sister" to Benjamin Button.
Like Meredith, Olivia Benson is a Scottish fold cat.
Appearances
Olivia was featured in one of Taylor's Diet Coke commercials, and has also appeared in many of her Instagram videos/photos. She was a feature in Taylor's music video for "Blank Space", featured in the scenes with Taylor sitting on the bed of her mansion. She and Meredith even appeared in an Instagram photo taken by Taylor's then-boyfriend, Calvin Harris, which he captioned "Moment". On Taylor Swift's now unavailable mobile app The Swift Life, there was a collection of Taymojis featuring Olivia. Olivia is seen at the beginning of the music video for Taylor's 2019 single, "ME!", alongside Olivia Benson on a couch.
Awards and nominations
Olivia has been nominated for 3 awards.
| Year | Organization | Award | Result |
| --- | --- | --- | --- |
| 2015 | Australian Nickelodeon Kids' Choice Awards | (Meredith Grey and Olivia Benson) Aussie/Kiwi's Favourite Animal | Nominated |
| 2016 | Nickelodeon UK Kids' Choice Awards | UK Favourite Famous Cat | Nominated |
| 2018 | iHeartRadio Music Awards | Cutest Musician's Pet | Nominated |
Gallery
Taymoji collection