In June of 2014, Taylor got a new cat she named Olivia Benson after the character portrayed by Mariska Hargitay on Law & Order: SVU, one of Taylor's favorite television shows.
She is the younger "sister" to Meredith Grey, and older "sister" to Benjamin Button.
Like Meredith, Olivia Benson is a Scottish fold cat.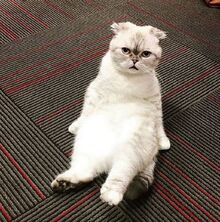 Appearances
Olivia was featured in one of Taylor's Diet Coke commercials, and has also appeared in many of her Instagram videos/photos. She and Meredith even appeared in an Instagram photo taken by Taylor's then-boyfriend, Calvin Harris, which he captioned "Moment".
Olivia is seen at the beginning of the music video for Taylor's 2019 single, "ME!", alongside Olivia on a couch.
Awards and nominations
Meredith has been nominated for 3 awards.
iHeartRadio Music Awards 2018
Cutest Musician's Pet - Nominated
Australian Nickelodeon Kids' Choice Awards 2015
(Meredith Grey and Olivia Benson) Aussie/Kiwi's Favourite Animal - Nominated
Nickelodeon UK Kids' Choice Awards 2016
UK Favourite Famous Cat - Nominated
Community content is available under
CC-BY-SA
unless otherwise noted.