For the lyrics to the song see Safe & Sound (lyrics)
"
Safe & Sound
" is a song by American singer-songwriter
Taylor Swift
featuring country/folk duo
The Civil Wars
, and a promotional single from the soundtrack for the 2012 film,
The Hunger Games
. As of February 15, 2012 it has sold 504,000 copies.
[1]
Chart performance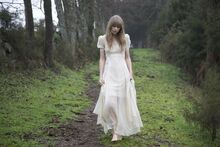 The song entered the Digital Songs tally at No. 19 with 136,000 sold in two days.
[2]
The song debuted at No. 30 on the
Billboard
Hot 100. In its second week it dropped to No. 31.
[3]
As of February 2012, the song has sold more than 500,000 copies in the United States.
Track listing
Digital Download[4]
Safe & Sound – 4
Charts
Chart (2012)
Peak
position
Canada (Canadian Hot 100)[5]
33
US Billboard Hot 100[6]
30
Music video
The song's music video, which is directed by Philip Andelman, premiered on February 13, 2012 at 7:54 p.m. ET on MTV.[7]
The video features Swift, walking barefoot through the woods, wearing a long white gown.
In between scenes, The Civil Wars singing in front of a fireplace, as they accompany Swift.[8]
The video was shot in a cemetery and the scene with Swift on the graves are a real couple's grave from the 1853.[9]
Relation to The Hunger Games
The video mentions some things related to The Hunger Games book series, written by Suzanne Collins. Some of the references are:
Taylor interpretes the older ghost of Primrose Everdeen in a destroyed District 12.
The Civil Wars' member interprete the older ghosts of Katniss Everdeen and Peeta Mellark.
There are nightlock berries in the video.
Prim (Taylor) sits in the tombs of Katniss and Peeta.
Taylor finds the Mockingjay Pin.
Awards and nominations
"Safe & Sound" received one award from six nominations.
Award show
Year
Award
Result
Country Music Association Awards
2012
Musical Event of the Year
Nominated
CMT Music Awards
Video of the Year
Nominated
Collaborative Video of the Year
Nominated
Golden Globe Awards
2013
Best Original Song
Nominated
Grammy Awards
Best Country Duo/Group Performance
Nominated
Best Song Written for Visual Media
Won
Cover versions
Country singer Savannah Berry sang this song at her blind audition on season 4 of the popular NBC singing show The Voice, earning her a spot on fellow country singer Blake Shelton's team. Berry's version of the song was later released digitally on iTunes the day her blind audition aired.
Singer Sonika Vaid sang this song on the February 10, 2016 episode of American Idol.
References
Community content is available under
CC-BY-SA
unless otherwise noted.