Scott C. Borchetta (born July 3, 1962) is an American record executive and entrepreneur, best known for founding Big Machine Records and for discovering singer-songwriter Taylor Swift. He started the label in 2005 with 13 employees, as its president/CEO and today it encompasses four imprints: Big Machine Records, BMLG Records, The Valory Music Co. and Nash Icon Records. In 2015, he became the new in-house mentor on American Idol for the program's 14th and 15th seasons.
Before Big Machine, Borchetta was a race car driver and executive at the Nashville divisions of DreamWorks Records and MCA Records as well as MTM Records.
Scott found Taylor when she performed at The Bluebird Cafe in 2004. At the time when he asked Taylor to join his record label, he had not yet made the label official yet. He asked for Taylor to trust him, and she did, which turned out to be a good choice.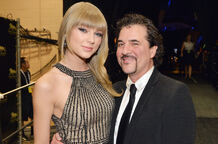 Feud
On June 30, 2019, Ithaca Holdings, run by Scooter Braun, bought Big Machine Records, with Borchetta staying on as CEO. This transaction included the masters of Taylor Swift's first six albums. Swift voiced her frustrations in a Tumblr post, claiming to have been trying to buy the masters for years and described Braun as an "incessant, manipulative bully". Swift also claimed Borchetta's loyalty was only through contracts, and that he knew "exactly what he was doing" when making this deal with Ithaca Holdings. Swift expressed that these men were "controlling a woman who did not want to be associated with them". The dispute escalated throughout the year, both parties claiming to be owed millions of dollars from the other. Swift accused Braun and Borchetta of holding her back from being able to perform her older songs during her American Music Awards for her Artist of the Decade award, as well as for her Netflix documentary, Miss Americana. On the same day Swift posted on her Tumblr account, Borchetta went on Big Machine Records and posted his own statement. He claimed to have given Swift a heads up through text the night before. "Out of courtesy, I personally texted Taylor at 9:06pm, Saturday, June 29th to inform her prior to the story breaking on the morning of Sunday, June 30th so she could hear it directly from me." He continued on to say "Taylor and I remained on very good terms when she told me she wanted to speak with other record companies and see what was out there for her. I never got in her way and wished her well." He also mentioned she had the opportunity to own not just her recordings, but everything else. "Taylor had every chance in the world to own not just her master recordings, but every video, photograph, everything associated to her career. She chose to leave."