More information about Taylor Swift can be found on her official website. Wikipedia will have a more updated and far larger article on her; you can visit it by clicking here.


Taylor Alison Swift (born December 13, 1989) is an American singer-songwriter, record producer, actress, music video director, philanthropist, and businesswoman. Her discography spans multiple genres and her narrative songwriting, which is often inspired by her personal life, has received widespread media coverage and critical praise.
Born in West Reading, Pennsylvania, Swift relocated to Nashville, Tennessee, at the age of 14 to pursue a career in country music. She signed a songwriting deal with Sony/ATV Music Publishing in 2004 and a recording deal with Big Machine Records in 2005 and released her eponymous debut studio album in 2006. She explored country pop on her second and third studio albums, Fearless (2008) and Speak Now (2010). The success of the former's singles "Love Story" and "You Belong with Me" on both country and pop radio established Swift as a leading crossover artist. She experimented further with pop, rock, and electronic genres on her fourth studio album, Red (2012). Her fifth, the synth-pop album 1989 (2014), effectively transformed her status from country songstress to pop star, supported by the Billboard Hot 100 number-one singles "Shake It Off", "Blank Space", and "Bad Blood". The media scrutiny on her personal life that followed largely inspired Swift's sixth studio album, Reputation (2017), which delved into urban sounds.
Parting ways with Big Machine to sign with Republic Records in 2018, Swift released her seventh studio album, Lover, in 2019. After consistent commercial success in the 2010s, she ventured into indie folk and alternative rock on her eighth and ninth studio albums, Folklore and Evermore (2020). Her lyricism on the two albums, inspired by escapism during the COVID-19 pandemic, was commended for its nuanced storytelling. To gain ownership over the masters of her back catalog, Swift released two re-recorded albums in 2021, Fearless (Taylor's Version) and Red (Taylor's Version), earning acclaim for their enhanced musicality and stronger vocals. Besides music, Swift has starred in various supporting acting roles in films such as Valentine's Day (2010) and Cats (2019). She has released the autobiographical documentary Miss Americana (2020), and the self-directed musical films Folklore: The Long Pond Studio Sessions (2020) and All Too Well: The Short Film (2021), amongst other specials.
Having sold over 200 million records worldwide, Swift is one of the best-selling music artists of all time. Her accolades include 11 Grammy Awards (including three Album of the Year wins), an Emmy Award, 12 Country Music Association Awards, 25 Billboard Music Awards (the most wins for a female artist), 32 American Music Awards (the most wins for an artist) and 49 Guinness World Records.
Early life
Taylor Swift was born on December 13, 1989, in Reading, Pennsylvania, and raised in Wyomissing, Pennsylvania. She is the daughter of Andrea Gardner (née Finlay), a homemaker who previously worked in finance, and Scott Kingsley Swift, a stockbroker. Her maternal grandmother, Marjorie Finlay (née Moehlenkamp), was an opera singer.[1][2] Swift has a younger brother, Austin.[3] She grew up on a Christmas-tree farm.
When Swift was in fourth grade, she won a national poetry contest with a three-page poem, "Monster in My Closet".[4][5] At the age of ten, a computer repairman showed her how to play three chords on a guitar, sparking her interest in learning the instrument. Afterward, Swift wrote her first song, "Lucky You".[6] When Swift was 12, she devoted an entire summer to writing a 350-page novel, which remains unpublished.[7] She began writing songs regularly and used it as an outlet to help her with her pain from not fitting in at school. Swift was a victim of bullying, and spent her time writing songs to express her emotions.[8] She also started performing at local karaoke contests, festivals, and fairs.
Swift began to regularly visit Nashville, Tennessee, and work with local songwriters. When she was 14, her family relocated to Nashville.[9] Her first major show was a well-received performance at the Bloomsburg Fair.[10] In Tennessee, Swift attended Hendersonville High School, but was subsequently homeschooled for her junior and senior years. In 2008, she earned her high school diploma.[11]
Swift's greatest musical influence is Shania Twain.[12] Her other influences include LeAnn Rimes, Tina Turner, Dolly Parton, and Swift's grandmother. Although her grandmother was a professional opera singer,[13] Swift's tastes always leaned more toward country music. In her younger years, she developed a love for Patsy Cline and Dolly Parton.[14] She also credits the Dixie Chicks for demonstrating the impact that one can have by "stretching boundaries".[15]
Music career
2000–05: Musical beginnings
At age 12, Swift made her first trip to Nashville, hoping to obtain a record deal by distributing a demo tape of her singing with karaoke songs. She gave a copy to every label in town,[16] but was rejected.[17] After Swift returned to Pennsylvania, she was asked to sing at the U.S. Open tennis tournament, where her rendition of the national anthem received much attention.[18]
When Swift was 15, she rejected RCA Records because the company wanted to keep her on an artist development deal.[19] After performing at Nashville's songwriters' venue, The Bluebird Café, she caught the attention of Scott Borchetta,[20] who signed her to his newly formed record label, Big Machine Records. At age 14, she became the youngest staff songwriter ever hired by the Sony/ATV Tree publishing house.[21]
2006–08: Taylor Swift
Main article: Taylor Swift
Swift released her debut single, "Tim McGraw", in mid-2006, reaching No.6 on Billboard magazine's Hot Country Songs chart.[23] Her self-titled debut album was later released on October 24, 2006.[24] Debuting high on the Billboard 200, the album sold 39,000 copies during its first week.[25] It peaked at No.1 on the Billboard Top Country Albums[26] and No.5 on the Billboard 200. Her debut album spent eight consecutive weeks at the top of the Top Country Albums charts[27] and remained at the top for 24 out of 91 weeks.[28] The only other country artists this decade to achieve the number-one sales position for 20 weeks or more are The Dixie Chicks and Carrie Underwood.[29] The music video for "Tim McGraw" won Swift an award for Breakthrough Video of the Year at the 2007 CMT Music Awards.[30] Her pursuit of country music stardom was the subject of "GAC Short Cuts", a part-documentary, part-music-video series airing since the summer of 2006.[31] On May 15, 2007, Swift performed "Tim McGraw" at the Academy of Country Music Awards. Swift has been an opening act for Tim McGraw and Faith Hill on their Soul2Soul 2007 tour. She has opened in the past for George Strait, Brad Paisley and Rascal Flatts as well.[32] The second single from the Taylor Swift album, "Teardrops on My Guitar", was released February 24, 2007. In mid-2007, the song peaked at No.2 on Billboard's Hot Country Songs chart and No.33 on the Billboard Hot 100. The song was re-released with a pop remix that brought "Teardrops on My Guitar" to No.13 on the Hot 100 and No.11 on the Pop 100. In October 2007, Swift was awarded Songwriter/Artist of the Year by the Nashville Songwriters Assn. Intl., making her the youngest artist ever to win the award.[33] Her third song off her debut album, "Our Song" spent six weeks at No.1 on the Country charts, peaked at No.16 on the Billboard Hot 100, and rose to No.24 on the Billboard Pop 100. Swift recorded a holiday album, Sounds of the Season: The Taylor Swift Holiday Collection, which was released exclusively at Target in late 2007. Swift was nominated for a 2008 Grammy Award in the category of Best New Artist, but lost to Amy Winehouse. Swift's successful single, "Picture to Burn", was the fourth single from her debut album. The song debuted and soon peaked at No.3 on the Billboard Country chart in spring 2008.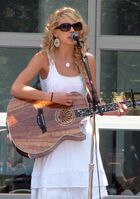 "Should've Said No" became Swift's second No.1 single. In Summer 2008, Swift released Beautiful Eyes, an EP sold exclusively at Wal-Mart.[34] In its first week of release, the album sold 45,000 copies, debuting at No.1 on Billboard's Top Country Albums chart and No.9 on the Billboard 200. With her self-titled debut album sitting at No.2 during the same week, Swift became the first artist since 1997 to hold the Top 2 positions of the Top Country Albums chart.[35] In October 2008, Swift performed a duet with best-selling rock band Def Leppard in a taped show in Nashville, Tennessee, and their collaboration was up for both Performance of the Year and Wide Open Country Video of the Year at the CMT Music Awards in 2009.[36]
2008–2010: Fearless and MTV VMA incident
Main article: Fearless
Swift's second studio album, Fearless, was released in the United States on November 11, 2008.[37] The album debuted at No.1 on the Billboard 200 Album Chart. Its sales of 592,304 were the highest debut of any country artist in 2008. This is also the largest opening U.S. sales week in 2008 by a female artist in all genres of music, and the fourth biggest overall behind Lil Wayne, AC/DC and Coldplay.[38] Its lead single "Love Story" became a hit on both the country and pop charts. During the first week of release, more than 129,000 of Swift's sales were sold digitally. This gives Swift the best online start for any country album in history.[39] It also makes Swift the fourth biggest week for a digital album since Nielsen SoundScan began tracking them in 2004.[40] Through its eighth week of release, Fearless has sold more than 338,467 downloads, making it the bestselling country album in digital history. In second place is Swift's debut Taylor Swift with sales of 236,046 downloads as of April 18, 2009.[41] In its debut week, seven songs in total on Fearless were charted on Billboard Hot 100, tying Swift with Miley Cyrus for the most by a female artist in a single week. With "White Horse" charted at #13, this gave Swift her sixth top 20 debut of 2008, a calendar year record for any artist in the history of the Billboard Hot 100. Of the 13 tracks on Fearless, 11 have already spent time on the Hot 100.[40] "Change", a song from the album, was selected as part of a soundtrack supporting Team USA's efforts in the 2008 Summer Olympics.[42] The song was also featured as part of the soundtrack of National Broadcasting Company's broadcast package of the Olympics. The lead single from the album, "Love Story", was released on September 12, 2008. The Fearless album includes the "Love Story" music video which is based on Romeo and Juliet. The song has reached No.2 on iTunes Store Top Downloaded Songs and No.4 on the Billboard Hot 100. Fifteen weeks after being added to pop radio, "Love Story" also became the first country crossover recording to hit number one on the Nielsen BDS CHR/Top 40 chart in the 16-year-history of the list, as well as number one on the Mediabase Top 40 Chart.[43] The second single from Fearless, "White Horse", was released on December 8, 2008. The music video for the song premiered on CMT on February 7, 2009. Though it missed the No.1 spot on Billboard's Hot Country Songs as of the week April 11, 2009, "White Horse" claimed the No.1 spot atop the USA Today/Country Aircheck chart (powered by Mediabase) in that week.[44] "Forever & Always", another song from the album, was based on Swift's relationship with singer Joe Jonas.[45][46] She was the first artist in the history of Nielsen SoundScan to have two different albums in the Top 10 on the year end album chart.[47] It also was the first album by a female artist in country music history to log eight weeks at No.1 on The Billboard 200. In mid-January 2009, Swift became the first country artist to top the 2 million mark in paid downloads with three different songs.[48] Swift is Billboard's Top Country Artist and Hot Country Songwriter of 2008; she is also country music's best-selling artist of 2008.[49] Swift ranked seventh on Nielsen SoundScan Canada's top-10 selling artists across all genres in 2008. Fearless and Taylor Swift took the No.1 and No.2 slots on the 2008 Year-End Canadian Country Albums Chart.[50] Swift sang the Star-Spangled Banner at game three of the World Series in Philadelphia on October 25, 2008.
In January 2009, Swift announced her North American Fearless Tour planned for 52 cities in 38 states and provinces in the US and Canada over the span of 6 months.[51] The tour kicked off April 23 in Evansville, Indiana. In the same month, Swift made her first musical guest appearance on Saturday Night Live.[52][53] On February 8, 2009, Swift performed her song "Fifteen" with Miley Cyrus at the 51st Grammy Awards. As of the week ending February 8, 2009, Swift's single "Love Story" became the country song with the most paid downloads in history.[54][55] Since the release of Swift's second album, Fearless, she has released one new song "Crazier" for the soundtrack of the feature film Hannah Montana: The Movie. At the 44th Annual Academy of Country Music Awards, Swift picked up Album of the Year honors as a performer and producer for Fearless. Swift is the youngest artist in history to win the ACM Album of the Year award. The Academy lauded her for career achievements including selling more albums in 2008 than any other artist in any genre of music, the breakthrough success of her debut album, and the worldwide crossover success of her No.1 single "Love Story". The Academy also cited Swift's contribution to helping country music attract a younger audience.[56] As of late April 2009, Swift has sold more than 14 million downloads, as well as three Gold Mobile Ringtones.[57] On April 28, 2009, Swift gave a free, private concert to students at Bishop Ireton High School, a small Catholic school in Alexandria, Virginia|Alexandria, Virginia after the school won a national "TXT 2 WIN" contest from Verizon Wireless.[58] The students sent over 19,000 text messages to Verizon during a roughly one month long contest. Swift played for about an hour during the school's field day, an annual day-long recess with games and activities. On October 8, 2009, Swift's official website announced that her sold-out Fearless Tour would return to North America for 37 additional dates in 2010.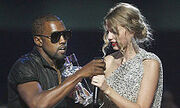 Scheduled to perform on September 13, 2009, Swift attended the 2009 MTV Video Music Awards. This was her first VMA performance, where she became the first country music artist to win an MTV Video Music Award.[59] During the show, as Swift was on stage accepting the award for Best Female Video for "You Belong with Me," singer/rapper Kanye West came on stage and took the microphone from Swift, saying that Beyoncé's video for "Single Ladies (Put a Ring on It)", nominated for the same award, was "one of the best videos of all time," an action that caused the many audience members to boo West.[60][61] He handed the microphone back to a stunned and reportedly upset Swift, who did not finish her acceptance speech.[60][62] When Beyoncé later won the award for Best Video of the Year for "Single Ladies (Put a Ring on It)", she called Swift up on stage so that she could finish her acceptance speech.[60][63] Following the awards show, West apologized for his verbal outburst in a blog entry (which was subsequently removed).[60] He was criticized by various celebrities for the outburst,[61][64][65][66][67] and even by US President Barack Obama who called West a "jackass" in an "off the record" comment.[68][69][70][71] He later posted a second apology on his blog and made his first public apology one day after the incident on the debut episode of The Jay Leno Show.[61] On September 15, 2009, Swift talked about the matter on The View, where she said she was at first excited to see West on stage and then disappointed once he acted out.[72][73] She said West had not spoken to her following the incident.[73] Following her appearance on The View, West contacted her to apologize personally; Swift said she accepted his apology.[59][73] However, on November 8, 2010, in an interview with a Minnesota radio station, West seemed to recant a bit of his past apologies by attempting to describe the act at the 2009 awards show as "selfless" and downgrade the perception of disrespect it created.[74][75] Swift would later perform a song at the 2010 VMA called "Innocent" which is about the incident and in the song she absolves West of his actions.[76]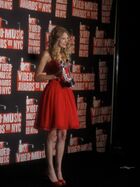 On November 11, 2009, Swift became the youngest artist ever to win the Country Music Association Award for Entertainer of the year, and is one of only six women to win the Country Music Association's highest honor.[77] On the chart week of November 14, 2009, Swift set a record for the most songs on the Billboard Hot 100 by a female artist at the same time with eight singles from the re-release of her 2008 album Fearless namely five debut new songs in the top 30: "Jump Then Fall" at #10, "Untouchable" at #19, "The Other Side of the Door" at #22, "Superstar" at No.27 and "Come in With the Rain" at No.30 and three already-charted songs that were released as singles—"You Belong with Me" (#14), "Forever & Always" which re-entered the chart at #34, and "Fifteen" (#46).[78] In addition, the song "Two Is Better Than One" by Boys Like Girls which features Swift, debuted at No.80 in the same issue. This gives Swift six debuts in one week, the biggest number of debuts by any female artist of all time. It also lifts the number of her simultaneously-charting songs to nine, setting another record for the biggest number of charting songs by the same female artist in the same week.[79] When "Fifteen" reached No.38 on the chart week of November 21, 2009, Swift became the female artist with the most Top 40 singles this decade, surpassing Beyoncé. "Fifteen" became Swift's twentieth Top 40 single overall.[80] "Two Is Better Than One" by Boys Like Girls and John Mayer's "Half of My Heart" both featured Swift, peaking at No.40 and No.25 respectively. The two songs are her 21st and 22nd Top 40 singles. Fearless was the best-selling album of 2009 in the US with more than 3.2 million copies sold in that year. Swift claimed both the No.1 and No.2 positions atop Nielsen's BDS Top 10 Most Played Songs chart (all genres), with "You Belong With Me" and "Love Story," respectively. She also topped the all format 2009 Top 10 Artist Airplay chart with over 1.29 million song detections, and the Top 10 Artist Internet Streams chart with more than 46 million song plays.[81]
Swift released the track "Today Was a Fairytale" as a digital download on iTunes on January 19, 2010. The song was featured on the soundtrack for the film Valentine's Day, in which she made her feature-film acting debut. The song debuted on the Billboard Hot 100 at No. 2,[82] becoming her sixth Top 10 and 23rd Top 40 single on that chart. According to Nielsen SoundScan, with sales of "Today Was a Fairytale" more than 325,000 in its first week, Swift has broken the record for first-week download sales by a female artist.[83] The song also debuted at number one on the Canadian Hot 100, making it Swift's first number one hit in Canada. In February 2010, Swift brought her Fearless Tour to 5 cities in Australia. Opening acts included Gloriana.[84] In mid-July 2010, Billboard revealed that Swift's new album is called Speak Now. It was released on October 25, 2010.[85] She has written the album completely by herself in Arkansas, New York, Boston and Nashville with Nathan Chapman serving as co-producer. On Wednesday, August 4, 2010, the lead single from the album, "Mine," was leaked onto the internet. Big Machine Records decided to rush the release of the song to counteract the leak. Swift appeared at the 44th Annual Country Music Awards on November 10, 2010.[86] In 2011, Swift visited Singapore as the first stop of the Asian leg of her first world tour.[87] Hong Kong is the last stop of the Speak Now World Tour and Swift will begin the European and American leg afterwards.[88] Swift's first live album, Speak Now World Tour: Live, featuring all seventeen performances from the North American leg of her concert tour, is scheduled for a November 21, 2011 release.[89] Many dates on the Speak Now World Tour were cancelled due to Swift suffering from bronchitis and was told she is unable to perform.[90] Swift sold approximately 4,470,000 albums in the US in 2010 (more than any other artist) and sold 9.9 million digital tracks.[91] She was ranked second on Rolling Stones lists of Top 16 "Queen Of Pops" of the decade.[92] Swift appeared on the Hamish & Andy show where she performed a new song called "Chaperone Dads", which is dedicated a select group of her fans.[93] The week following the release of her "Sparks Fly" video Swift jumped from nineteen to ten on the Billboards Social 50.[94] Swift has revealed that she has already written 25 songs for an untitled follow-up album to Speak Now, set to release in the later part of 2012. She commented on them, "They're sad. If I'm being honest."[95][96]
2012-2014: Red and intense media scrutiny
Swift's fourth studio album, Red, was released in October 2012. She wrote nine of the album's sixteen songs alone. The remaining seven were co-written with Max Martin, Liz Rose, Dan Wilson, Ed Sheeran and Gary Lightbody. Nathan Chapman served as the album's lead producer but Jeff Bhasker, Butch Walker, Jacknife Lee, Dann Huff and Shellback also produced individual tracks. Chapman has said he encouraged Swift "to branch out and to test herself in other situations". Musically, while there is experimentation with heartland rock, dubstep and dance-pop, it is "sprinkled among more recognisably Swiftian fare". Jon Caramanica of The New York Times placed Red at number two on his end-of-year list, characterizing it as the album on which Swift "stops pretending she's anything but a pop megastar, one with grown-up concerns, like how two bodies speak to each other and how taste in records can be a stand-in for moral turpitude." The Times praised her "sublime" lyrics, particularly those on the "brooding" "All Too Well". Rolling Stone enjoyed "watching Swift find her pony-footing on Great Songwriter Mountain. She often succeeds in joining the Joni/Carole King tradition of stark-relief emotional mapping ... Her self-discovery project is one of the best stories in pop."
As part of the Red promotional campaign, representatives from 72 worldwide radio stations were flown to Nashville during release week for individual interviews with Swift. She also appeared on many television chat shows and performed at award ceremonies in the US, the UK, Germany, France, Spain and Australia. The album's lead single, "We Are Never Ever Getting Back Together", became Swift's first number one on the US Billboard Hot 100 chart. Three further singles have been released: "Begin Again" (for country radio), "I Knew You Were Trouble" and "22" (for pop and international radio). Red debuted at number one on the Billboard 200 with first-week sales of 1.21 million copies; this marked the highest opening sales in a decade and made Swift the first female to have two million-selling album openings. As of May 2013, Red had sold over 5.2 million copies worldwide. In her career, as of November 2012, she had sold in excess of 26 million albums and 75 million song downloads.
The North American leg of Swift's Red Tour runs from March to September 2013. She is playing 66 dates across North America, including thirteen stadium shows. She has invited special guests such as Nelly, B.o.B, Train and Neon Trees to duet with her on various nights of the tour. The Red Tour will visit stadiums across Australia in December 2013. Swift has collaborated with a number of other artists in the Red era. She performed "As Tears Go By" with The Rolling Stones in Chicago as part of their 50 & Counting Tour. She provided guest vocals for a Tim McGraw song entitled "Highway Don't Care", featuring guitar work by Keith Urban; the trio performed the song live on two occasions. She also joined Florida Georgia Line onstage during their set at the 2013 Country Radio Seminar to sing "Cruise". Ed Sheeran, who features on Red and appears as a support act on the Red Tour, has revealed that the pair plan to write further material together while touring. Swift won three MTV Europe Music Awards in 2012, including the honors for Best Female and Best Live Act. She was named Best Female Country Artist at the 2012 American Music Awards. The Nashville Songwriters Association's 2012 Songwriter/Artist Award went to Swift for the fifth year in a row. "We Are Never Ever Getting Back Together" was nominated for Record of the Year at the 2013 Grammy Awards.
In the Red era, Swift's dating life became the subject of intense media scrutiny. The New York Times asserted that Swift's "dating history has begun to stir what feels like the beginning of a backlash" and questioned whether Swift was in the midst of a "quarter-life crisis". The Village Voice remarked: "From late-night monologues, to the kids on 4chan, her breakups have become her defining characteristic and easiest detraction ... There are some obvious reasons; she's young, she can be contentiously dramatic, she puts herself in the center of her stories, and obviously she's dated a lot of famous people in a relatively short amount of time. But none of that is exceptionally rare -- pop-stars have lead [sic] vogue, ecumenical lifestyles for a long time ... It should be a little bit uncomfortable that Swift's earnestness can be so easily discredited when plenty of other, more egregious songwriters are let off the hook ... It's really easy to dismiss a blonde girl trying to play by the rules."
Taylor has released a new pop album which is entitled "1989" with popular hits like "Shake It Off", "Blank Space", "Style", "Bad Blood", and "Wildest Dreams". There were over 1 million copies sold on the first week of its release date. Both Blank Space and Shake It Off have over 1 billion views on YouTube in July 2015. She toured the world on her "1989 World Tour".
In March 2014, Swift relocated to New York City. Around this time, she was working on her fifth studio album, 1989, with co-writers Antonoff, Max Martin, Shellback, Imogen Heap, Ryan Tedder, and Ali Payami. She promoted the album through various campaigns, including inviting fans to secret album-listening sessions. Credited as her "first documented, official pop album", it marked a departure from her country albums. The album was released on October 27, 2014, to positive reviews.
1989 sold 1.28 million copies in the U.S. during the first week of its release and debuted atop the Billboard 200. This made Swift the first act to have three albums sell more than one million copies in their opening release week, for which she earned another Guinness World Record. As of June 2017, 1989 had sold over 10 million copies worldwide. The lead single, "Shake It Off", was released in August 2014 and debuted at number one on the Billboard Hot 100. The album generated two additional number-one singles—"Blank Space" and "Bad Blood" (featuring Kendrick Lamar)—as well as the top-ten entries "Style" and "Wildest Dreams", and other singles "Out of the Woods" and "New Romantics". "Shake It Off", "Blank Space", and "Bad Blood" also topped the charts in Australia and Canada. After "Blank Space" reached number one in the U.S. following "Shake It Off", Swift became the first woman in the Hot 100's history to "succeed herself at the top spot". The music video for "Blank Space" was briefly the fastest video to reach one billion views on Vevo. The videos for "Blank Space" and "Bad Blood" earned four nominations at the 2015 MTV Video Music Awards. "Bad Blood" won Video of the Year and Best Collaboration. Swift's headlining tour, the 1989 World Tour, running from May to December 2015, grossed over $250 million, and was the highest-grossing tour of the year.
Swift was named Billboard's Woman of the Year in 2014—the first artist to win the award twice. That year she also received the Dick Clark Award for Excellence at the American Music Awards. In 2015, "Shake It Off" was nominated for three Grammy Awards, including Record of the Year and Song of the Year; Swift won the Brit Award for International Female Solo Artist. Swift was one of eight artists to receive a 50th Anniversary Milestone Award at the 2015 Academy of Country Music Awards. In 2016, she won three Grammy Awards for 1989—Album of the Year, Best Pop Vocal Album, and Best Music Video for "Bad Blood". She became the first woman, and the fifth act, to win the first of these twice.
Prior to 1989's release, Swift stressed the importance of albums to artists and fans. In November 2014, she removed her entire catalog from the streaming service Spotify, arguing that its ad-supported free service undermined the premium service, which provides higher royalties for songwriters. In a June 2015 open letter, Swift criticized Apple Music for not offering royalties to artists during their free three-month trial period and said she would pull 1989 from the catalog. The following day, Apple announced it would pay artists during the free trial period, and Swift agreed to stream 1989 on their streaming service. Swift's intellectual property rights management and holding company, TAS Rights Management, filed for 73 trademarks related to Swift and the 1989 era memes. She re-released her entire catalog plus 1989 to Spotify, Amazon Music and Google Play and other digital streaming platforms in June 2017.
In 2015, Swift performed "I Saw Her Standing There" and "Shake It Off" with Paul McCartney at the Saturday Night Live 40th Anniversary Special after-party. She joined Kenny Chesney to sing "Big Star" on the opening night of his Big Revival Tour in Nashville. In March 2015, Swift started dating Scottish DJ and record producer Calvin Harris. By June 2015, the duo was ranked as the highest-paid celebrity couple over the past year by Forbes with combined earnings of over $146 million. Before Swift and Harris announced the end of their relationship in June 2016, they co-wrote his song "This Is What You Came For" (featuring Rihanna), for which she was initially credited under the pseudonym Nils Sjöberg. The same month Swift began dating English actor Tom Hiddleston; the relationship ended several months later. In August, Swift addressed her mother's cancer diagnosis and encouraged others to get a medical checkup. In September 2016, Swift began dating British actor Joe Alwyn. In October, Little Big Town released "Better Man", written solely by Swift, for their seventh album, The Breaker. She had emailed them the song and offered it to them, having their vocal harmonies in mind. The song earned Swift an award for Song of the Year at the 51st CMA Awards. Two months later, Swift and British singer Zayn Malik released a single together called "I Don't Wanna Live Forever", for the soundtrack of the film Fifty Shades Darker (2017). The song reached number one in Sweden and peaked at number two in the United States. At the 2017 MTV Video Music Awards, the duo won the award for Best Collaboration for the song's music video.
2017 - 2019: Reputation
In August 2017, Swift successfully sued David Mueller, a former morning show personality for Denver's KYGO-FM. Four years earlier, Swift had informed Mueller's bosses that he had sexually assaulted her by groping her at an event. After being fired, Mueller accused Swift of lying and sued her for damages from his loss of employment. Shortly after, Swift counter-sued for sexual assault. The jury rejected Mueller's claims and ruled in favor of Swift. Swift thereafter cleared her social media accounts and then released "Look What You Made Me Do" as the lead single from her sixth album, Reputation. The song topped the charts in Australia, Ireland, New Zealand, the United Kingdom, and the United States. Its music video had over 43.2 million views during its first day on YouTube, breaking the site's record for the most-viewed music video in 24 hours. In October, Swift released the album's second single "...Ready For It?", which charted at number three in Australia and at number four in the United States.
Two promotional singles were released from Reputation, "Gorgeous" and "Call It What You Want". "Gorgeous" later became the album's fifth single but was released as such only in Europe. The album was released on November 10. It sold 1.216 million copies in the United States becoming 2017's the country's top-selling album (pure sales only). First-week worldwide sales amounted to two million copies. With this achievement, she became the first act to have four albums sell one million copies within one week in the U.S. The album topped the charts in several countries, including the U.S., the UK, Australia, and Canada. Later that month, Swift performed "...Ready for It?" and "Call It What You Want" on Saturday Night Live. "End Game", featuring Ed Sheeran and rapper Future, followed in November as the third single; it peaked at number 18 in the U.S. Other singles from the album include "New Year's Day" released exclusively to country radio, and "Delicate".
In April 2018, Swift featured on Sugarland's "Babe" from their album Bigger. In support of Reputation, Swift embarked on her Reputation Stadium Tour from May to November 2018. The tour broke multiple venue attendance and gross earnings records in the United States, taking in $266.1 million—selling more than two million tickets. Swift broke her own record for the highest-grossing domestic tour by a woman and surpassed The Rolling Stones' $245 million-grossing A Bigger Bang Tour (2005–2007). Worldwide, the tour grossed $345.7 million, making it the second highest-grossing concert tour of the year. At the American Music Awards of 2018, Swift won the Tour of the Year award, Artist of the Year, Favorite Pop/Rock Female Artist, and Favorite Pop/Rock Album for Reputation. With a total of 23 awards, she became the most awarded female winner in AMA history, a record previously held by Whitney Houston. Reputation was nominated for a Grammy Award in the Best Pop Vocal Album category.
Reputation was Swift's last album under her 12-year contract with Big Machine Records. In November 2018, Swift signed a new multi-album deal with Big Machine's distributor Universal Music Group; in the United States, her future releases will be promoted under the Republic Records imprint. Swift said the contract included a provision for her to maintain ownership of her master recordings. In addition, in the event that Universal sells any part of its stake in Spotify, Spotify agreed to distribute a non-recoupable portion of the proceeds among their artists. In late November, Big Machine Records released a Reputation Stadium Tour playlist for streaming services. The playlist includes every song performed on B-stages during the Reputation Stadium Tour. On December 31, Reputation Stadium Tour, a concert film, was released on Netflix.
2019 - 2020: Lover
Swift released "Me!", featuring Brendon Urie of Panic! at the Disco on April 26, 2019, as the lead single from her seventh studio album, Lover. The song debuted at number 100 on the Billboard Hot 100 three days after its release, and jumped to number two the following week—the biggest single-week jump in the Hot 100's history. The music video for "Me!" broke a Vevo record by amassing 65.2 million views within its first day of release. On June 14, she released the second single "You Need to Calm Down", which debuted and peaked at number two on the Billboard Hot 100, and gave a surprise performance at the Stonewall Inn in Greenwich Village, Manhattan, to commemorate Stonewall 50 – WorldPride NYC 2019. On July 23, she released a promotional single from the album, "The Archer". The title track was released as the third single on August 16.
Lover was released on August 23 to positive reviews, and debuted atop the Billboard 200 with first-week sales of 679,000 copies. Upon the album's release, all of its 18 songs entered the Billboard Hot 100, setting the record for the most simultaneous chart entries for a female artist. At the 2019 MTV Video Music Awards, the videos for "Me!" and "You Need to Calm Down" received twelve nominations. "Me!" won Best Visual Effects, and "You Need to Calm Down" won Video of the Year and Video for Good.
In June, Big Machine, Swift's former record label, was purchased by music manager Scooter Braun, including the masters for her first six albums. Swift voiced her displeasure in a Tumblr post, saying she had been trying to buy the masters for years and describing Braun as an "incessant, manipulative bully". In August, Swift announced plans to rerecord the albums in November 2020. Swift was cast as Bombalurina in the movie adaptation of Andrew Lloyd Webber's musical Cats, which was released on December 20, 2019.
2020 - Present: Folklore, and Evermore
Swift's eighth studio album, Folklore, was a surprise album released on July 24, 2020. Written and recorded while Swift was in isolation during the COVID-19 pandemic, the album includes collaborations with Bon Iver, Aaron Dessner, and Jack Antonoff. The album's indie folk production and Swift's vivid lyrics received critical acclaim. Folklore sold two million units worldwide within its first week and broke the record for first-day album streams by a female artist on Spotify. The lead single "Cardigan" debuted atop the Billboard Hot 100, making Swift the first artist to debut atop both the Billboard 200 and Hot 100 in the same week. Other singles from the album were Billboard Hot 100 top-10 entries "Exile" and "The 1", and country radio single "Betty". At the 2020 American Music Awards, Swift won three awards, including Artist of the Year for a record third consecutive time. On November 25, she released the self-directed concert film Folklore: The Long Pond Studio Sessions on Disney+. At the 63rd Annual Grammy Awards, Swift received six nominations, including Album of the Year.
Swift's ninth studio album, Evermore, was released on December 11, 2020, along with its leading single "Willow". Described as a "sister record" to Folklore, the album again includes collaborations with Bon Iver, Aaron Dessner, and Jack Antonoff, as well as with American rock band Haim.
2021-Present: Re-recordings
Following the masters' controversy, Swift released the first re-recording of her back catalog, Fearless (Taylor's Version), on April 9, 2021. The re-recording of her 2008 album Fearless peaked atop the Billboard 200, becoming the first re-recorded album to do so, and was preceded by three of its tracks: "Love Story (Taylor's Version)", "You All Over Me" with Maren Morris, and "Mr. Perfectly Fine". "Love Story (Taylor's Version)", the re-recording of Swift's 2008 single "Love Story", made Swift the second artist after Dolly Parton to have both the original and the re-recording of a single at number one on the Hot Country Songs. Swift released "Wildest Dreams (Taylors Version)", the re-recording of her 2015 single "Wildest Dreams", on September 17, 2021, after the song gained traction on the online-video sharing app, TikTok. The second re-recording of her back catalog, Red (Taylor's Version)—the re-recording of her 2012 album Red—was released on November 12, 2021.
In addition to solo material, Swift featured on the single "Gasoline", from the expanded edition of Haim's 2020 album Women in Music Pt. III, and two songs, "Renegade" and "Birch", from the indie folk band Big Red Machine's 2021 album How Long Do You Think It's Gonna Last?. In May 2021, Swift was awarded the Global Icon Award by the Brit Awards and the Songwriter Icon Award by the National Music Publishers' Association. A short film written and directed by Swift, All Too Well, was released alongside Red (Taylor's Version) on November 12, 2021; it is titled after and features the extended re-recording of her 2012 song by the same name, and stars herself, Sadie Sink, and Dylan O'Brien. Swift was also cast in David O. Russell's untitled film slated for release on November 4, 2022.
Songwriting style
Swift's lyrics are highly autobiographical; she has said that "If you listen to my albums, it's like reading my diary."[97] For example, the song "Forever & Always" was inspired by her relationship with Joe Jonas,[45][46] while the song "Hey Stephen" was written about a boy whom she toured with in the past.[97] "Fifteen" was written about her freshman year of high school. It has been said that her lyrics "can be tinged with acid: the quiet loner girl getting one over on the cheerleaders, or a caustic payback for the boy who dumped her."[98] She has also indicated that she tries to write so her fans can relate to the lyrics, saying "My goal is to never write songs that my fans can't relate to."[99] She parodied her confrontational style of songwriting during her appearance on Saturday Night Live; during her opening monologue, she performed an original song that featured lines such as "You might think I'd bring up Joe, that guy who broke up with me on the phone/ Hey, Joe, I'm doing real well, tonight I'm hosting 'SNL'" referring to her highly publicized relationship with Joe Jonas.[100]
The intensely personal nature of the songs has drawn her attention in the music industry. Swift once said, "I thought people might find them hard to relate to, but it turned out that the more personal my songs were, the more closely people could relate to them."[101] Due to the autobiographical nature of her songs, some fans have researched the songs' origins. Swift once said, "Every single one of the guys that I've written songs about has been tracked down on MySpace by my fans."[102] The New York Times described Swift as "one of pop's finest songwriters, country's foremost pragmatist and more in touch with her inner life than most adults".[103]
Other work
Acting
In 2008, Swift made her acting debut in Brad Paisley's music video "Online". In that same year Swift filmed a documentary for MTV entitled MTV's Once Upon a Prom and a documentary with Def Leppard for CMT entitled CMT Crossroads, which premiered on November 7, 2008.[104] Swift collaborated with the Jonas Brothers in their 3D Concert Film, Jonas Brothers: The 3D Concert Experience. The film was released on February 27, 2009 in North America and brought in $12.7 million on its opening weekend.[105] Swift made her primetime television acting debut on CBS's CSI: Crime Scene Investigation "Turn, Turn, Turn" as Haley Jones on March 5, 2009 in the U.S. and Canada. The episode was watched by 20.8 million viewers.[106] Swift made a cameo appearance in Kellie Pickler's music video "Best Days of Your Life". Swift also appeared in Hannah Montana: The Movie credited as herself. The film was released on April 10, 2009 in North America.[107] The television show Dateline NBC showcased an hour on Swift on May 31, 2009. The episode titled Dateline NBC: On Tour With Taylor Swift included scenes from her tour bus, concert footage, and rehearsals.[108] Swift both hosted and performed as the musical guest for the November 7, 2009 episode of Saturday Night Live.[109] In 2010, Swift made her feature film acting debut as Felicia in the film Valentine's Day. For this role she won the Teen Choice Award for Movie Female Breakout.[110] She voiced the role of Audrey in the animated film The Lorax, which was released in 2012.[111] Swift played Elaine in season 2 episode 25 of the the television series New Girl in 2013.[2] She has also played Rosemary in the 2014 film The Giver and Bombalurina in Cats (2019).
Cover model and recognition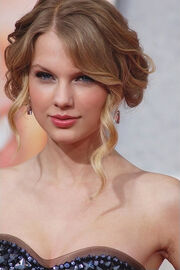 Swift has been featured on the cover of a number of magazines. She has been a cover girl for Blender, for which she was one of two country artists during the magazine's fifteen year run to be a cover subject.[112] She was included in People's annual "100 Most Beautiful People" 2008, 2009, and 2010 lists.[113][114] Additionally, she was named number fifty-seven on Maxim's sexiest women of 2008, number fifty on the 2009 list[115] and number thirty-one on the 2010 list.[116] CosmoGirl voted Swift as the "2008 Girl of the Year".[117] Swift was named by Rolling Stone magazine as one of "The RS 100: Agents of Change".[118] She was nominated as a candidate for TIME's "2009 The Time 100 Finalists" list, which is determined by online voting.[119] People magazine named Swift one of 25 Most Intriguing People of 2009.[120]
Jakks Pacific released a celebrity doll of Swift in late 2008.[121] Swift has been the face of L.E.I. Jeans (Life Energy Intelligence) since 2008.[122] Swift and the Levi Strauss & Co. Clothing Line made a deal to create a line based on Swift's style of dressing, which was available in Wal-Mart.[123] However, Swift said she does not want to be called a designer. Instead, she says she will inspire the clothing company's dress line based on her own style. "I don't look at it like I'm branching out as a designer... It's not the Taylor Swift designer line."[124] In 2009, Swift became the National Hockey League's newest celebrity spokesperson. She appears in commercials for the Nashville Predators.[125]
In May 2009, Swift filed a lawsuit (kept sealed until August 2010) against numerous sellers of unauthorized counterfeit merchandise bearing her name, likeness, and trademarks, where she demanded a trial by jury, sought a judgment for compensatory damages, punitive damages, three times the actual damages sustained, and statutory damages, and sought for recovery of her attorney's fees and pre-judgment interest.[126] Nashville's U.S. District Court granted an injunction and judgment against the sellers, who had been identified at Swift's concerts in several states. The court ordered merchandise seized from the defendants to be destroyed.[127][128][129] On July 15, 2011, Swift's official website announced that she had partnered with Elizabeth Arden to launch a fragrance, which is to be released in October 2011. The fragrance's name, "Wonderstruck", is a reference to the song "Enchanted" featured on her Speak Now album.[130] Swift also worked with American Greetings, Inc.[131]
Philanthropy
On September 21, 2007, Swift helped launch a campaign to protect children from online predators.[132] She has teamed up with Tennessee Governor Phil Bredesen to combat internet sex crimes.[132] The year-long campaign, in partnership with the Tennessee Association of Chiefs of Police, will distribute Internet safety information and materials to parents and students across the state.[132] In early 2008, Swift donated the pink Chevy pick-up truck given to her by her record label to the children's charity, the Victory Junction Gang; in June 2008, Swift donated all the proceeds from her merchandise sales at the 2008 Country Music Festival to Red Cross, the Nashville Area Red Cross Disaster Relief Fund and the National American Red Cross Disaster Relief Fund.[133]
Swift donated $100,000 to the Red Cross in Cedar Rapids, Iowa to help the victims of the Iowa flood of 2008.[134] Swift has teamed up with Sound Matters to make listeners aware of listening "responsibly".[135] Swift supports @15, a teen-led social change platform underwritten by Best Buy to give teens opportunities to direct the company's philanthropy through the newly-created @15 Fund. Swift's song, "Fifteen", is featured in this campaign.[136] Swift lent her support to the Victorian Bushfire Appeal by joining the lineup at Sydney's Sound Relief concert,[137] reportedly making the biggest contribution of any artist playing at Sound Relief to the Australian Red Cross.[138] Swift donated her prom dress, which raised $1,200 for charity, to DonateMyDress.org.[139] On November 20, 2009 after a live performance on BBC's Children in Need night Swift announced to Sir Terry Wogan she would donate £13,000 of her own money to the cause.[140]
On December 13, Swift's own birthday, she donated $250,000 to various schools around the country which she had either attended or been involved with.[141] Swift has donated a pair of her shoes – a gently-worn pair of black Betsey Johnson heels with her autograph on the sole – to the Wish Upon a Hero Foundation's Hero in Heels fundraiser for auction to raise money to benefit women with cancer.
In response to the May 2010 Tennessee floods, Swift donated $500,000 during a flood relief telethon hosted by WSMV, a Nashville television station.[142]
On May 23, 2011, Taylor Swift transformed what was to have been the final dress rehearsal for the North American leg of her Speak Now tour into a benefit concert for victims of recent tornadoes in the United States southeast region. The concert in Nashville drew more than 13,000 people and raised more than $750,000 from proceeds from ticket sales, merchandise and other facets of the show.[143] The benefit concert for tornado relief was subsequently honored at the 2011 Do Something Awards.[144] In July 2011, Swift further aided to the cause by donating $250,000 to Alabama football coach Nick Saban's charity Nick's Kids to aid in the tornado relief efforts of West Alabama.[145]
In 2012, Swift participated in the Stand Up to Cancer telethon, performing "Ronan", a song she wrote in memory of a four-year-old boy who died of neuroblastoma. The song was made available for digital download with all proceeds donated to cancer-related charities. She has also worked with the Make-A-Wish Foundation and Habitat for Humanity. In 2014, she donated $100,000 to the V Foundation for Cancer Research and $50,000 to the Children's Hospital of Philadelphia. Swift has encouraged young people to volunteer in their local communities as part of Global Youth Service Day.
Swift donated to fellow singer-songwriter Kesha to help with her legal battles against Dr. Luke and to actress Mariska Hargitay's Joyful Heart Foundation organization. During the COVID-19 pandemic, Swift donated to the World Health Organization and Feeding America and offered one of her signed guitars as part of an auction to raise money for the National Health Service. Swift performed "Soon You'll Get Better" during One World: Together At Home television special, a benefit concert curated by Lady Gaga for Global Citizen to raise funds for the World Health Organization's COVID-19 Solidarity Response Fund. In 2018 and 2021, Swift donated to the Rape, Abuse & Incest National Network in honor of Sexual Assault Awareness and Prevention Month. In addition to charitable causes, she has made donations to many of her fans.
Impact and legacy
Swift's early success as a country singer-songwriter plays an important role in shaping the modern country music scene. New York journalist Jody Rosen asserts that Swift is the first country artist whose success reaches the world beyond the United States.[146] Following Swift's rise to fame, country labels have become more interested in signing young singers who write their own music.[147] With her autobiographical narratives revolving around romance and heartbreak—which defy traditionally conservative values represented in country music[146]—Swift introduces the genre to a younger generation that could relate to her personal struggles.[148] Rolling Stone listed Swift's country music as one of the biggest influences on 2010s pop music.[149] Her onstage performance with guitars contributed to the "Taylor Swift factor", a phenomenon to which media outlets attribute the rise in guitar sales to women, a previously ignored demographic.[150][151]
Swift's success in the 2010s, particularly in terms of record sales, cemented her power as a leading figure in the music industry.[152][153] Although Swift's image has transitioned from country to pop, her narrative songwriting, nurtured by her country background, offers a sense of authenticity that retains significant devotion from young audiences.[146][154] Buoyed by her strong fan base, Swift is the only artist to have four albums sell over a million copies within one week since Nielsen SoundScan started tracking sales for the Billboard 200 in 1991.[152] For New York magazine, Swift's million-selling albums, amidst an influx of streaming and a continuous decline in traditional album sales, prove that she is "the one bending the music industry to her will".[153] According to Rolling Stone, Swift's opposition to low-royalty streaming services and efforts to claim rights to her masters were two of the defining moments for the music industry in the 2010s decade.[155] Her actions have fostered debate over reforms to on-demand music streaming and prompted awareness of intellectual property rights among younger musicians.[156][157][158]
Governor of the State of Minnesota, Mark Dayton, declared August 31, 2018, as the "Taylor Swift Day" in the state, honoring Swift's two consecutive dates of Reputation Stadium Tour (August 31 and September 1) at the U.S. Bank Stadium in Minneapolis. He stated that, "through her personal and honest music, Taylor Swift has energized and inspired not only Minnesotans, but people all over the world, and is a positive influence on her fans through her example of truthfulness, grace, extensive philanthropy, and strength of character".[159][160] In 2019, Swift was named Woman of the Decade of the 2010s by Billboard[161] and became the first woman to earn the title Artist of the Decade (2010s) at the American Music Awards.[162] Financial Times named Swift one of the most influential women of 2020.[163] Billboard cited Swift's two surprise albums, Folklore and Evermore, as notable examples of how the COVID-19 pandemic forced artists to adjust their creative processes in a way that resulted in massive success.[164] Musician Jack Antonoff cited Swift as the main reason why he started producing music.[165] Swift and her work have influenced various recording artists, including Ruth B.,[166] Shamir Bailey,[167] Kelsea Ballerini,[168] Bailey Bryan,[169] Camila Cabello,[170] Sabrina Carpenter,[171] The Chainsmokers,[172] Greyson Chance,[173] Selena Gomez,[174] Ellie Goulding,[175] Conan Gray,[176] Griff,[40] Halsey,[177] Niall Horan,[178] Shawn Mendes,[179] Soccer Mommy,[180] Maren Morris,[181] Nina Nesbitt,[182] Niki,[183] Finneas O'Connell,[184] Maisie Peters,[40] Girl in Red,[185] Olivia Rodrigo,[186] Tegan and Sara,[187] Troye Sivan,[188] Hayley Williams,[189] and the Vamps.[190]
Personal life
In addition to her relationship with Joe Jonas, which ended in October 2008,[45][46][191] Swift's dating history has included other celebrities: Taylor Lautner, for three months in 2009;[192] and Jake Gyllenhaal, from late 2010 to early 2011.[193][194][195][196] Swift has also been romantically linked to John Mayer.[197] There has been speculation that the songs "Dear John" and "The Story of Us" from her album Speak Now are about Mayer.[198] In October 2011, she revealed to Ellen that, "I don't even have, like, kind of a boyfriend. I don't have someone that I'm texting that is a guy that someday might be my boyfriend. There's like nothing going on right now."[199] Taylor dated Connor Kennedy from July-October 2012, breaking up due to long-distance issues. She dated also singer Harry Styles from December 2012-January 2013. Their relationship ended when he cheated on her, and Taylor was seen leaving the island at which they were staying by herself, looking sad and alone. Meanwhile, Harry stayed back to party with a blonde reality star.
In January 2015, Taylor replied to Caillou Pettis' Tumblr post, a bullied fan who talked to her about his experiences with bullies on Tumblr. A few days after Pettis wrote the post, Taylor replied with a heartfelt message.[200]
Taylor later dated DJ and producer Calvin Harris from March 2015 to June 2016 and actor Tom Hiddleston from June 2016 to September 2016. She was rumored to have started dating her boyfriend, Joe Alwyn in September 2016, and since the start they've agreed to keep their relationship out of the public eye. Taylor's relationship with Joe is her longest, having lasted over 5 years as of December 2021.
Discography
Main article: Taylor Swift discography
Studio albums
Re-recordings
Filmography
| Year | Title | Role | Notes |
| --- | --- | --- | --- |
| 2007 | America's Got Talent | Herself | Guest; Episode: Season 2 Finale |
| 2008 | LarryBoy: The Cartoon Adventures | Tater Swater | Guest; Episode: LarryBoy and the Mashed Potato |
| 2008 | CMT Crossroads | Herself | Episode: "Taylor Swift and Def Leppard" |
| 2009 | Jonas Brothers: The 3D Concert Experience | Herself | Cameo appearance |
| 2009 | CSI: Crime Scene Investigation | Haley Jones | Episode: "Turn, Turn, Turn" |
| 2009 | Hannah Montana: The Movie | Herself | Cameo |
| 2009 | Saturday Night Live | Herself | Host/Musical Guest |
| 2009 | Dancing with the Stars | Herself | Guest; Episode: Week 6 results |
| 2010 | Valentine's Day | Felicia | Movie acting debut |
| 2010 | Taylor Swift: Journey to Fearless | Herself | Main Role |
| 2010 | Dancing with the Stars | Herself | Guest; Episode: 200th episode |
| 2012 | The Lorax | Audrey | Voice role |
| 2012 | Bruno the Robot | Various | Voice role, PBS Kids series |
| 2014 | The Giver | Rosemary | Supporting Role |
| 2019 | Cats | Bombalurina | Supporting Role |
| 2020 | Miss Americana | Herself | Main Role |
| 2020 | Folklore: the long pond studio sessions | Herself | Main Role |
| 2021 | All Too Well: The Short Film | Herself | Supporting Role; Producer and Director |
Awards and nominations
Tours
Trivia
References
External links