"This Is What You Came For" is a song written and produced by Calvin Harris and Taylor Swift and sung by Rihanna and Taylor.
Writing and release
Harris and Nils Sjöberg were credited as the songwriters and producers. On 13 July 2016, TMZ reported that the track was written and produced by Taylor Swift, who was at the time dating Calvin, who used the pseudonym Nils Sjöberg because they did not want their relationship to overshadow the song.
Live performances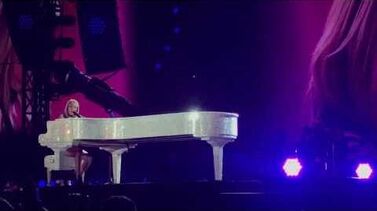 Taylor performed "This is What You Came For" on the piano for the first time live at the United States Grand Prix in Austin, Texas, on 22 October 2016. Swift then performed an acoustic guitar version at the DirecTV Super Saturday Night in Houston, Texas, on 4 February 2017.[1]
Lyrics
Baby, this is what you came for
Lightning strikes every time she moves
And everybody's watching her
But she's looking at you, oh, oh
You, oh, oh, you, oh, oh
You, oh, oh, you, oh, oh
You, oh, oh
Oh, oh

Lightning, this is what you came for
Lightning strikes every time she moves
And everybody's watching her
But she's looking at you, oh, oh
You, oh, oh, you, oh, oh
You, oh, oh, you, oh, oh
You, oh, oh
Oh, oh

You, oh, oh, you, oh, oh
You, oh, oh, you, oh, oh
You, oh, oh, you, oh, oh
Oh, oh

We go fast till they can't replay
Who knows why it's gotta be this way
We say nothing more than we need
I say "your place" when we leave

Lightning, this is what you came for
Lightning strikes every time she moves
And everybody's watching her
But she's looking at you, oh, oh
You, oh, oh, you, oh, oh
You, oh, oh, you, oh, oh
You, oh, oh
Oh, oh

You, oh, oh, you, oh, oh
You, oh, oh, you, oh, oh
You, oh, oh, you, oh, oh
Oh, oh

Baby, this is what you came for
Lightning strikes every time she moves
Yeah
Lightning, this is what you came for
Lightning strikes every time she moves
And everybody's watching her
But she's looking at you, oh, oh
You, oh, oh, you, oh, oh
You, oh, oh, you, oh, oh
You, oh, oh
Oh, oh

You, oh, oh, you, oh, oh
You, oh, oh, you, oh, oh
You, oh, oh, you, oh, oh
Oh, oh
References