"Tied Together with a Smile" is the seventh track from Taylor Swift's debut album, Taylor Swift.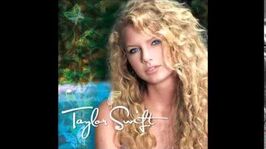 Background
"Tied Together with a Smile" is a song about a friend of Taylor's with an eating disorder. She talked about it in an interview with Entertainment Weekly:
| | | |
| --- | --- | --- |
| " | I wrote ["Tied Together With A Smile"] about one of my friends, who is this beauty queen, pageant princess — a gorgeous, popular girl in high school. Every guy wanted to be with her, every girl wanted to be her. I wrote that song the day I found out she had an eating disorder. There are a couple songs on the album like that, that are just watching other people and making observations. But most of the songs on the album are about actual people that have been in my life. I tend to be kind of blatantly obvious, and with my songs, I'll even mention names a lot of times. | " |
Bulimia nervosa is an eating disorder in which sufferers binge eat then get rid of the food by making themselves throw up or other methods of purging. The disorder can disrupt homeostasis and harm the digestive system. Only 6% of sufferers seek help, despite the possible health consequences.
If you or someone you know are suffering from bulimia or any other eating disorder, seek help. No one deserves to be alone.
Hidden message
Hidden message: You are loved.
Lyrics
Verse 1
Seems the only one who doesn't see your beauty
Is the face in the mirror looking back at you
You walk around here thinking you're not pretty
But that's not true, 'cause I know you

Chorus
Hold on
Baby you're losing it
The water's high
You're jumping into it
And letting go
And no one knows
That you cry
But you don't tell anyone
That you might
Not be the golden one
And you're tied together with a smile
But you're coming undone

Verse 2
I guess it's true that love was all you wanted
'Cause you're giving it away like it's extra change
Hoping it will end up in his pocket
But he leaves you out like a penny in the rain
Oh, 'cause it's not his price to pay
Not his price to pay

Chorus
Hold on
Baby you're losing it
The water's high
You're jumping into it
And letting go
And no one knows
That you cry
But you don't tell anyone
That you might
Not be the golden one
And you're tied together with a smile
But you're coming undone

Hold on
Baby you're losing it
The water's high
You're jumping into it
And letting go
And no one knows
That you cry
But you don't tell anyone
That you might
Not be the golden one
And you're tied together with a smile
But you're coming undone

Outro
You're tied together with a smile
But you're coming undone oh
Goodbye, baby
With a smile, baby, baby
External link