For the lyrics see We Are Never Ever Getting Back Together (lyrics)
"
We Are Never Ever Getting Back Together
" is a song by
Taylor Swift
. It was written by Swift with
Max Martin
and
Shellback
. Production was handled by Martin and Shellback, with
Scott Borchetta
serving as executive producer. It was released as the lead single and is the eighth track from her fourth studio album,
Red,
on August 13, 2012, by
Big Machine Records
.
"We Are Never Ever Getting Back Together" is a pop and bubblegum pop song; its lyrics depict Swift's frustrations at an ex-lover who wants to rekindle their relationship. Rolling Stone named the song the second best song of 2012[1] while it took the fourth spot in Time's end-of-year poll. It has received a Grammy Award nomination for Record of the Year. It also received a People's Choice Awards nomination for Favorite Song of the Year.
The song was an instant commercial success. It is the first song in Swift's career to peak at number one on the Billboard Hot 100, and the first song to hold the top spot for more than one week after a huge leap, since Kelly Clarkson's two-week run of "My Life Would Suck Without You" after the song rocketed from number 97 to the top spot. A music video for the song was released in August 2012. It was the first music video to be presented in 4K resolution and received positive reviews from critics. A CD single was released in September 2012 by Swift's official store, Amazon.com and US Walmart stores.
Background and release
After writing Speak Now (2010) entirely solo, she opted to collaborate with different songwriters and producers for Red. Thus, she called Max Martin and Shellback, two songwriters and producers whose work she admired, to discuss a possible collaboration. The trio conceived the concept for "We Are Never Ever Getting Back Together" shortly after a friend of Swift's ex-boyfriend walked into the recording studio and spoke of rumors he heard that Swift and her former flame were reuniting. After the friend left, Martin and Shellback asked Swift to elaborate on the details of the relationship, which she described as "break up, get back together, break up, get back together, just, ugh, the worst". When Martin suggested that they write about the incident. Swift began playing the guitar and singing, "We are never ever......", and the song flowed rapidly afterwards. She described the process as one of the most humorous experiences she had while recording, and said the musical partners matched her expectations. An audio clip of her sarcastically speaking about breakups can be heard before the final chorus.[2]
Swift premiered the single on August 13, 2012, during a live chat on YouTube,[3] and the song was released on Google Play that day[4] for digital download with it being released to iTunes and Amazon.com the next day, August 14.[5][6] A lyric video also premiered on Swift's official Vevo that same day.[7] The song was released to Adult Contemporary radio stations on August 13, 2012[8] with it being released to mainstream radio stations the next day.[9] The song was later released to country radio on August 21, 2012.[10] A limited edition individually numbered CD single was released to Swift's official store and Amazon.com on September 4, 2012. The limited edition CD single was packaged with a "We Are Never Ever Getting Back Together" t-shirt and backpack.[11] The CD single was also able to be bought individually.[12] The CD single was also released exclusively to US Walmart stores the same day.[13]
Hidden message
Hidden message: When I stopped caring what you thought.
It's widely assumed that this song is about actor Jake Gyllenhaal, but Swift's story that it was inspired by a friend of the guy's who visited her in studio leave one believing it was a musician who treated her so poorly. Will Anderson, front man for Virginia indie rock band Parachute, is a name that has surfaced recently. We like him as the guilty party.
Composition and lyrics
"We Are Never Ever Getting Back Together" is a pop and bubblegum pop[14] song of three minutes and twelve seconds[4] that features electronic heavy production and a pop music vocal styling, a musical transition for Swift.[14] An alternate edition was recorded for country radio featuring a different instrumental arrangement.[15] It was written in the key of G Major with a common time signature and a slow tempo of 86 beats per minute Moderate Rock beat, with Swift's vocals spanning one octave & four notes, from G3 to D5.[16] The track features an acoustic guitar (some of its sounds are reversed) and various synthesizers over an electronic drum beat. The song was written by Swift, along with Max Martin and Shellback.[15][17] The lyrics discuss Swift's frustration towards an ex-lover who wants to rekindle their relationship.
Awards and nominations
"We Are Never Ever Getting Back Together" received eight awards from twenty-three nominations.
Year
Organization
Award
Result
2012
Guinness World Records
Fastest Selling Single in Digital History
Won
2013
Academy of Country Music Awards
Video of the Year
Nominated
American Nickelodeon Kids' Choice Awards
Favorite Song
Nominated
Argentina Nickelodeon Kids' Choice Awards
Favorite International Song
Won
Billboard Music Awards
Top Streaming Song (Video)
Nominated
Top Country Song
Won
BMI Pop Awards
Award-Winning Songs
Won
CMT Music Awards
Video of the Year
Nominated
Grammy Awards
Record of the Year
Nominated
MTV Music Video Awards Japan
Best Female Video
Nominated
Best Pop Video
Nominated
Best Karaoke Video
Nominated
MTV Millennial Awards
Hit Chicle del Año (Catchiest Hit of the Year)
Won
Much Music Video Awards
International Video of the Year – Artist
Nominated
Myx Music Awards
Favorite International Video
Nominated
People's Choice Awards
Favorite Song
Nominated
Radio Disney Music Awards
Best Breakup Song
Won
SiriusXM Indies Awards
International Video of The Year
Nominated
International Single of The Year
Nominated
Teen Choice Awards
Choice Country Song
Won
Choice Breakup Song
Nominated
2014
World Music Awards
World's Best Song
Won
World's Best Video
Nominated
Reception
Critical response
Upon initial release, her song received mixed to positive reviews from music critics. Robert Myers of The Village Voice felt that the song, while "good", was "not Swift at her best" and speculated that the decision to release it as a lead single was made for commercial reasons: "I doubt 'Never Ever' is even close to being the best song on Red; it's a teaser, an indication to her fans of what's coming up. That sounds like commercial calculation of the worst kind, but I don't think it is. Swift's connection with her audience is possibly more important than her connection with her boyfriends. And there is one brilliant touch: the spoken bit that comes after the middle eight."[18] Grady Smith of Entertainment Weekly drew comparisons with Avril Lavigne and praised the "undeniable, instantly catchy hook".[15] While describing the song as "joyous", he nevertheless expressed concern that the song's "juvenile sensibilities" marked a regression following Swift's work on Speak Now.[15] Andrew Untenberger of Popdust described it as "smart and catchy but maybe a little soulless compared to her most resonant songs".[19] Jody Rosen of Rolling Stone noted that the song's "hooks, plural, have a zing that's more Stockholm than Nashville. But it's unmistakably Taylor: a witty relationship postmortem, delivered in inimitable girlie-girl patois. And this bit – "I'm just, I mean, this is exhausting. Like, we are never getting back together. Like, ever" – might be the most sublime spoken-word interlude in pop since Barry White died."[20]
Marah Eakin of The A.V. Club commented on "what a good song it is": "With its thumping kick drum, clipped syncopation, and mildly snarky lyrics, it's a teen dream in the vein of Swift's other sing-along jams like "Love Story" or "You Belong with Me."[21] Kevin Coyne of Country Universe gave the song a failing D grade, calling it a "huge step backward".[22] James Montgomery of MTV felt the "fantastic" song may "represent a turning point in her career ... Swift no longer has any interest in being the victim ... [She] displays a defiant, liberated streak". He noted that the song seemed "custom-crafted to dominate radio ... all shiny, silvery guitars and walloping, whomping choruses".[23] Amy Sciarretto of Popcrush praised Swift for capturing a "universal feeling in an upbeat, empowering song" and described it as "one of the catchiest tunes she's ever penned".[24] Jonathan Keefe of Slant Magazine described "the melodic hook" as the song's best attribute but criticized Swift's "stilted phrasing". He described her vocal performance as a "complete misfire", pointing out that her voice was at its "most unpleasant and nasal". However, Keefe warned that it was "premature" to say the "full-on pop" song "signals anything more than a temporary breakup" with guitar-based country-pop.[25] David Malitz of The Washington Post found the song immature and remarked, "the chorus is catchy but if this is representative of what awaits on Red, it's hard to be too excited".[26] Glenn Gamboa of Newsday described it as "anthemic in a slick pop way, rather than her usual modern country way ... Part of T. Swizzle's charm is the way she makes her songs sound genuine and conversational and 'Never Ever' is no exception".[27] Billy Dukes of Taste of Country stated that "[Swift] captures the anger of young love gone wrong better than anyone since, well…[Taylor] Swift" and that the song's melody is "difficult to embrace quickly."[28] However, Camille Mann of CBS News considered the song to be "catchy".[29]
Rolling Stone named it the second-best song of 2012 in their end-of-year critics' poll: "It's like a Clash of the Titans: Swift, the world's hottest pop singer or songwriter, meets up with Max Martin, the Swedish maestro who's been the Dr. Evil of global trash-disco for more than a decade. To nobody's surprise, they cook up a perfect three-minute teen tantrum about country girls getting mad at high-strung indie boys, topping the charts faster than you can say, "This is exhausting." It's a stadium-chant breakup song that may have less to do with the actual guy it's about than with the massive raging-cowgirl audience Swift has led to the pinnacle of the music world.[30] The song was marked at number four on Time magazine's "Top 10 Songs of 2012 Playlist".[31] It was voted the sixth best single of 2012 by The Village Voice's 40th annual Pazz & Jop critics' poll.[32] It has also received a Grammy nomination for Record of the Year for the 2013 Grammy Awards.[33]
Commercial performance
Upon its release, the song reached the top position on the iTunes singles chart in 50 minutes, hence breaking the previous record held by Lady Gaga's song "Born This Way" with a record of an hour, making "We Are Never Ever Getting Back Together" the fastest selling single in digital history.[34][35] It also reached at the top of the iTunes in 32 countries.[36]
The song debuted at number 72 on the Billboard Hot 100 based on two days of airplay alone in the week ending August 25, 2012.[37] The song entered at number 25 on Hot 100 Airplay, the highest debut rank for a song by a female country act in the airplay tally's 21-year history.[38] "We Are Never Ever Getting Back Together" also made a significant debut position on Billboard airplay genre charts.
By debuting at number 13 on the Hot Country Songs chart dated September 1, 2012, the song tied the record for the second highest chart debut on that chart with "Feel Like a Rock Star" by Kenny Chesney and Tim McGraw, and the highest chart debut by a solo country female artist, surpassing Carrie Underwood's "So Small."[39] On October 11, 2012, Billboard implemented a new policy for the Hot Country Songs where digital download sales and streaming data were factored into the 50-position rankings, along with existing radio airplay data monitored by Nielsen BDS. As a result of this methodology change, "We Are Never Ever Getting Back Together" jumped from No. 21 to No. 1 on the Hot Country Songs and became Swift's seventh song to top the chart.[40] In doing so, "We Are Never Ever Getting Back Together" became the first song to top both the country and Hot 100 charts since Lonestar's "Amazed" in March 2000. When it reached its ninth week atop the chart the week of December 15, the song surpassed Connie Smith's "Once a Day" (from November 1964 to January 1965) for the longest run at No. 1 on the chart by a female solo artist; in addition, the song became the first to remain at No. 1 for nine consecutive weeks since "Almost Persuaded" by David Houston (from August to October 1966). After dropping back to No. 2 for three weeks, the song returned to No. 1 on January 12, 2013 (due to it having garnered the digital gainer that week), allowing the song to notch its 10th week at No. 1[41], and in the process becoming the first song to spend at least 10 weeks atop the chart since Buck Owens' "Love's Gonna Live Here" (a 16-week No. 1 in 1963-1964).
On Pop Songs, the song debuted at number 18, the fifth-best opening rank ever, while it debuted at number 16 on Adult Contemporary, the best entrance for a non-holiday song by a woman since Faith Hill's "There You'll Be" debuted at number 15 the week of June 2, 2001.[42] It soon reached number two on that chart for four weeks, behind Maroon 5's smash hit "One More Night". It is the first song in Swift's career to top the Billboard Hot 100 and her 11th top ten hit, tying with Kenny Rogers' record for the most top ten hits by a country artist in chart history.[43][44] Its number 72 to number one jump is the largest leap to number one since "Crack a Bottle" by Eminem, Dr. Dre and 50 Cent vaulted from number 78 to number one in February 2009. It also makes Swift the first female country artist to top the Billboard Hot 100 since Carrie Underwood debuted in the top spot in July 2005 with "Inside Your Heaven."[44] It held the position for a two-week span after a huge successful leap, making Swift the second artist to hold the position since Kelly Clarkson's "My Life Would Suck Without You".[45][46] On its fifth week on the chart, the song rebounded to number one after falling at number two, making it the first country song to spend three weeks on top since Kenny Rogers' "Lady" top the chart for six weeks in 1980.[47]
"We Are Never Ever Getting Back Together" debuted atop the Billboard Hot Digital Songs chart, selling 623,000 digital copies in the week ending September 1, 2012. It is Swift's fourth number one on that chart.[44] It set the record for the biggest digital sales week ever for a song by a female artist, surpassing the record held by Kesha's "Tik Tok", which sold 610,000 digital copies in its largest week. It also surpassed Lady Gaga's song "Born This Way" to become the song with the highest first-week digital sales for a female act.[48] It is also the second largest figure ever overall. Only Flo Rida's "Right Round" has sold more in a week, when it debuted at number one with 636,000 on the Digital Songs chart dated February 28, 2009.[49] "We Are Never Ever Getting Back Together" spent a second week at number one on the Digital Songs chart with 307,000 downloads sold. Despite a 51% drop, the song became one of just five songs in 2012 to sell more than 300,000 downloads in multiple weeks.[50] The song topped again the chart on the succeeding three weeks, making it the first song to spend its first five weeks at number one on Billboard Hot Digital Songs since Eminem and Rihanna's "Love the Way You Lie" did it on July 2010.[51] It has sold 3 million downloads as of November 2012 and it is already been Certified triple platinum. It became Swift's sixth song to pass two million mark, which is more than any other country artist.[52][53]
The song also attained commercial success worldwide. "We Are Never Ever Getting Back Together" became Swift's second number one in Canada, following "Today Was a Fairytale," after debuting at number one; it is her second song to do so, tying her with Eminem and Katy Perry for multiple songs to debut at number one.[54] The song spent four non-consecutive weeks at number one.[55] It debuted at number two in New Zealand, the highest debut of the week, and on its second week it rose to the number-one spot, making it Swift's first single to top the chart there.[56] In Ireland, the song jumped at number four on its second week after debuting at number 11, became Swift's second top ten hit after her 2009 hit "Love Story."[57] The song also gave Swift's second top ten hit in United Kingdom after it debuted at number 5, and eventually ascended to number 4 where it has sold 465,000 copies so far[58][59] and also in Norway after it reached number 7 in its third week.[60] "We Are Never Ever Getting Back Together" became Swift's sixth top ten hit in Australia after it vaulted from number 13 to number three in its second week.[61] It also appeared in Netherlands at number 16,[62] in Spain at number 9.[63]
Cover versions
In August 2012, YouTube artist Tyler Ward covered the song, whose version is available on iTunes.[64] The same month, Christian band Anthem Lights uploaded a cover of the song on YouTube.[65] In September 2012, it was covered by English band The Vaccines at BBC Radio 1's Live Lounge[66] and by trio Hanson while they were on an Australian radio.[67] Travis Garland made a more R&B version of the song the same month.[68] Boyce Avenue did a cover with Hannah Trigwell, which was released in November 2012.[69] English singer Example also covered it on BBC Radio 1's Live Lounge in November 2012.[70] The all female pop group Fifth Harmony covered this song on season 2 of The X-Factor in 2012.
Music video
Background and release
A music video for the song premiered on CMT, MTV, and TeenNick on August 31, 2012 at 7:49 pm Eastern time, and later on MTV.com, CMT.com, and VH1.com the same day at 8:00 pm Eastern time. The video is directed by Declan Whitebloom, with whom Swift has worked on the music videos for both "Mean" and "Ours".[71] The video was shot like a pop-up book using a Sony F65 Cinealta camera in a continuous take with no edits, and features Swift in five different outfits. It is also the first music video to be featured in 4K resolution.[72] According to Swift, she wanted the video to be as "quirky as the song sounds" and stated that "There's just knitting everywhere; there's just random woodland creatures popping up."[29] Prior to the video's release a fourteen second preview was released by CMT on their official YouTube on August 30, 2012.[73]
Synopsis
The video begins with Swift in colorful pajamas recounting the events of her off and on again relationship with her ex-boyfriend (played by Noah Mills). The video then segues into Swift going into her living room where her band is dressed up in animal costumes and Swift belts out the chorus of the song. The video then goes to a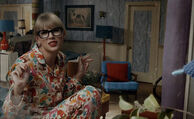 TV where Swift says "Like, ever." and then to the dining room where we see she returns to recounting the events of her relationship and receives a phone call from her ex who is calling her from a nightclub. Swift hangs up on him and he walks off screen into the nightclub. It then goes to the two in a truck having an argument then to them having a stroll in the park. Swift then runs off and we see her on the phone telling the person on the other line how she and her ex are not getting back together and her frustration of their entire relationship. The video then segues back to Swift's living room where a party is going on and her ex shows up unannounced trying to woo her back and she slams the door in his face. The video ends with Swift on her window ledge where she was at the beginning of the video, singing the last line of the song.[74]
Reception
James Montgomery of MTV praised the video stating that the video is "truly a treat to watch".[75] Jim Farber of the New York Daily News comment on the video however was that "[Swift's] tone and demeanor in the clip is conversational and sarcastic, ideally suited to simulating intimacy with her massive teen girl fan-base."[76] Carl Williott of Idolator commented on the video's content and stated "what more could you ask for in a visual for a #1 pop smash?"[77] The Rolling Stone called it "flinging strong-willed sass".[78] David Greenwald of Billboard stated that the video "is a quirky celebration that finds Swift singing and dancing with band members in animal costumes in between relationship flashbacks -- all filmed in an elaborate long shot. Swift wears large glasses and a pair of printed pajamas as she shrugs off her not-so-nice ex-boyfriend, a scruffy, seemingly older musician-type with a penchant for drama."[79]
Live performances
Swift performed the song live for the first time at the 2012 MTV Video Music Awards on September 6, 2012, which was held at the Staples Center in Los Angeles.[71][80] Swift was the last performance of the night and, wearing a red and white striped shirt and black shorts, began her performance in an area resembling a recording studio before taking the stage along with her back-up singers, dancers and band (in animal costumes) took the stage.[81] Swift also performed the song live at the iHeartRadio Music Festival. She performed the song on the British version of The X Factor on October 14, 2012.[82] Swift performed the song on the German TV show Schlag Den Raab.[83]
This song was transformed into a rock version during the setlist for The 1989 World Tour.
Cover versions
The all-female pop group Fifth Harmony performed this song on the second season of The X Factor on October 31, 2012.
Format and track listing
"We Are Never Ever Getting Back Together" – 3:12
Credits and personnel
Credits are adapted from the liner notes of the CD single.[86][87]
Scott Borchetta – executive producer
Tom Coyne – mastering
Eric Eylands – assistant recording
Max Martin – producer, writer, keyboards
Serban Ghenea – mixing
John Hanes – engineer

Sam Holland – recording
Michael Ilbert – recording
Tim Roberts – assistant engineer
Shellback – producer, writer, guitar, bass, keyboards, programming
Taylor Swift – lead vocals, writer
Charts and certifications
Weekly charts

Certifications

Country
Certification
(sales thresholds)
Australia
4× Platinum[115]
Canada
Platinum[116]
Denmark
Platinum[117]
New Zealand
2× Platinum[118]
United Kingdom
Silver[119]
United States
3× Platinum[120]

Year-end charts
Release history
List of radio and release dates with formats and record labels
Country
Date
Format
Label
Australia
August 14, 2012[125]
Digital download
Big Machine Records
United States
August 13, 2012[4][8]
Digital download
Hot AC radio
August 14, 2012[5][6][7][9]
Digital download
Mainstream radio
Lyric video
August 21, 2012[10]
Country radio
August 30, 2012[71]
Music video
September 4, 2012[11][12][13]
CD single
United Kingdom
August 14, 2012[126]
Digital download
Germany
August 19, 2012[127]
References
External links
Community content is available under
CC-BY-SA
unless otherwise noted.