Wonderstruck

Fragrance by Taylor Swift
Released:
October 2011
Tagline:
The beginning of something magical
Label:
Elizabeth Arden
Wonderstruck is a women's fragrance from Elizabeth Arden. Wonderstruck is the first perfume Taylor has released. Endorsed by country singer Taylor Swift, it took its name from Swift's song "Enchanted", which reflected on the first impression one person has of another: "I'm wonderstruck blushing all the way home". The tagline for the fragrance is "The beginning of something magical".[1]
There are many products in the Taylor Swift store that are evolved around Wonderstruck. Wonderstruck is not only a perfume, it also comes in a Body Lotion and a Bath Gel. Many more products have been released that include the perfume, some including the perfume and the lotions and gels. Around the time Wonderstruck was released, a Taylor Swift coin purse was put on sale. It somewhat resembled the box that the perfume comes in. Buying the perfume sometimes came with a free coin purse. Later, on the 13 Days Of Taylor in 2013, a package including the coin purse was released. It has a charm bracelet, the coin purse, and three rollerballs of all the perfumes she's made, including Wonderstruck. The coin purse and the package are no longer available. 
It was released in the US in October 2011. Together with Justin Bieber's Someday it revitalized the celebrity fragrance business, with sales in 2011 up by 57 percent.[2]
Taylor released a spin-off fragrance, Wonderstruck Enchanted, in the US in September 2012.[3]
Product Description
According to its description at Amazon.com
| | | |
| --- | --- | --- |
| " | Wonderstruck is that awe-inspiring feeling that comes from experiencing something magical. Eclectic and traditional with a whimsical flair, every element of the brand is authentically Taylor. A charming and sparkling surprise of vibrant fruits, kissed by a bouquet of soft petals and a touch of sweet indulgence. The flawless beauty of freesia, apple blossom and raspberry spark a swirl of vibrancy and feminine allure. In the heart, a sweet surprise of blissful vanilla is embellished by airy, sun drenched honeysuckle and white hibiscus. Notes of golden amber and sandalwood are woven with a kiss of lush peach. | " |
[4]
Appearance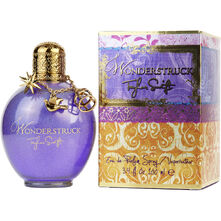 The Wonderstruck bottle is a holographic purple and gold. There is a charm bracelet hanging off the top. There are three charms on it, a bird charm, a bird cage, and a star. On the purple part of the bottle, there is text saying 'Wonderstruck Taylor Swift'. It comes in a box with different patterns on it, Taylor says that she got inspiration for the box from different fabrics she saw while she was on tour. The rollerball is a simple white glass tall cylinder with a purple lid. 
Awards and Nominations
Wonderstruck has been nominated for 1 award.
| Year | Organization | Award | Result |
| --- | --- | --- | --- |
| 2012 | FiFi Awards | Fragrance of the Year: Women's Luxe | Nominated |
References
Community content is available under
CC-BY-SA
unless otherwise noted.